Psst… Scroll down for today's giveaway
Since the day I first laid eyes on this man of mine, so much has changed.
We went into marriage with some expectations, but little did we know that our hopes and dreams for the future would take on a shape of their own.
Life is one thing when you're dating, it's a completely different situation when you take on the responsibilities of parenting and owning a home.
And just when you think you've got it all figured out, everything changes again.
A change can be one of the most exciting times in your life, like when you're starting a family or buying a home. But here's the thing–it can also be stressful.
I'm overwhelmed with joy when it comes to my children, but I'll tell you this much, labor didn't end when they took their first breath. It's been a life-long series of contractions that grab hold of our hearts.
Others experience the contractions that come when all hope of having a child is lost.
Life is a series of changes. Like a roller coaster, they can bring us straight to the top one day and have us quickly descending the next.
Some are a blessing, and other changes are so hard to swallow you wonder how you can possibly get through the day.
There are moments in every journey when we deal with emotion; sometimes we're dealing with fear, sometimes it's doubt, sometimes it's guilt, and sometimes it's a sense of failure. If you're feeling any of these things, remember this: when you are weak He is strong.
Allow your weakness to illustrate the strength and power of the One who seeks to rescue you…
But he said to me, 'My grace is sufficient for you, for my power is made perfect in weakness.' Therefore I will boast all the more gladly about my weaknesses, so that Christ's power may rest on me. That is why, for Christ's sake, I delight in weaknesses, in insults, in hardships, in persecutions, in difficulties. For when I am weak, then I am strong." (2 Corinthians 12:9-10)
Remember Heratio Spafford, he lost his son and then his life savings. Delayed by business, he sent his family ahead en route to Europe. Heratio planned to join them shortly, but before he had a chance to, their ship sunk killing four of his daughters. His wife sent him a telegraph that simply read, "Saved Alone." During all of this grief, Heratio penned the now famous hymn, "It is Well With My Soul" as he travelled to be with his wife.
That's the kind faith that I crave. Faith I know I can rest on when life knocks me down.
I can offer you ways to embrace change in your marriage. But unless I encourage you to embrace God fully those steps would be nothing but empty words on a paper. We need more than that. He wants more than that.
Jesus said, "My yoke is easy and my burden is light." (Matthew 11:30)
But if we're not in step with Him we're not embracing that yoke. If we're not laying our burden at the feet of His throne, we're carrying it around. We have to let go of that worry, that concern, and the stress of what tomorrow might bring. All we have is today. All we have is this minute. The rest is in His hands.
I didn't expect to get into all of this when I started writing this post. In fact I was almost completely finished writing a different post when I was led in this direction. But this has to be said. Some of you are struggling with change right now and I can't help but feeling that it's weighing you down.
Let go and let God. Don't hang onto the pain. Get down on your knees, pray about it, and leave it at the foot of His throne.
You are loved by an almighty God,
Darlene Schacht
www.timewarpwife.com
THIS WEEK'S CHALLENGE: Consider some of the ways that your marriage has changed over time. Start counting the blessings that these changes have brought. Write them down.
Don't miss my team members' posts on embracing change in marriage.
You can find them here:
Jennifer Smith at UnveiledWife.com
Sheila Gregoire at ToLoveHonorandVacuum.com
Ashleigh Slater at AshleighSlater.com
Lisa Jacobson at Club31Women.com
Courtney Joseph at Women Living Well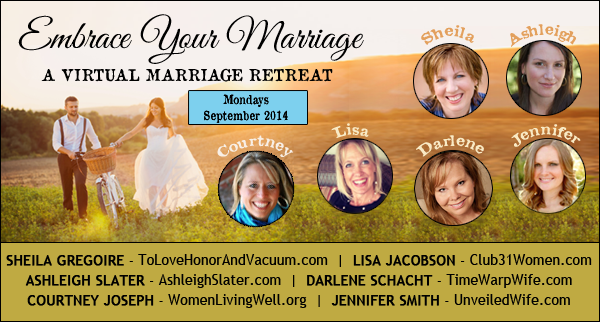 Also, be sure to come back here the next three Mondays for my other posts in the "Embrace Your Marriage: A Virtual Marriage Retreat" series. I'll be talking about:
September 15: Embracing Your Differences
September 22: Embracing Oneness
September 29: Embracing Your Friendship
---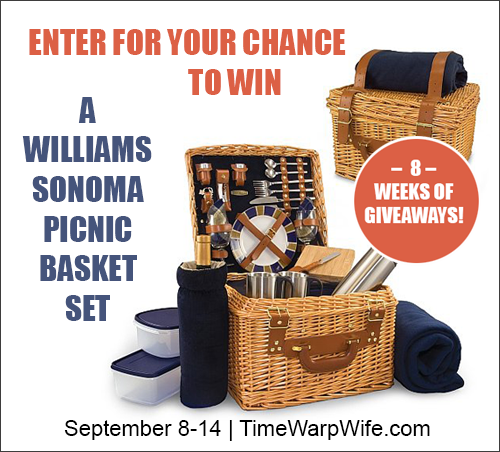 Enter this giveaway in the Rafflecopter gadget below. Subscribers click through to the blog.
In celebration of the upcoming release of Messy Beautiful Love, The team at Thomas Nelson has provided us with giveaways for eight weeks! We're onto week four offering a Williams Sonoma Picnic Basket Set. Keep coming back every week because we have another four more after this one!
Pssst… Here are two links you might need:
The book page: http://www.messybeautifullove.com
This giveaway page: https://timewarpwife.com/?p=4610
ENTER THE RAFFLECOPTER GADGET BELOW FOR YOUR CHANCE TO WIN.
Please Note: This giveaway is open to US and Canada only.
a Rafflecopter giveaway
Want to know what else we'll be giving away?
Here's a sneak peek: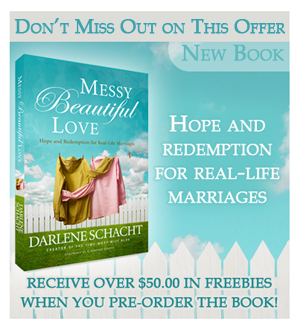 Week one – Winner of the ipad Mini: Katie Howard
Week two Winner of the Vita Mix Blender: Kelly Fisher
Week three Winner of the  KitchenAid 5 QT Mixer in Aqua Sky Blue:
Liz Reveal
Today – September 8th
· Williams Sonoma Picnic Basket Set
Week 5 – September 15th
· COFFEE PACKAGE – Includes Keurig Rivo Single Serve Cappacino & Latte Brewer & Accessories + Carousel + supply of 144 cups + set of 4 mugs
Week 6 – September 22nd
· HOME PACKAGE – Includes a Kate Spade candle + Kate Spade Trinket Tray + Giraffe at Home Throw
Week 7 – September 29th
· Coach Crosstown Crossbody Bag in Light Gold & Platinum
Week 8 – October 6th
· ANTHROPOLOGIE KITCHEN PACKAGE – Includes Apron & matching pot holders + Pie Dish & matching Whisk + matching Rolling Pin
The giveaway will end at midnight each Sunday night and I'll announce the winner the next morning (Monday) along with a new giveaway!
Thank you for helping me get the word out!