I remember the 9th grade. It was 1979, in the land before email. I was sitting in front of an old wooden desk in the upstairs bedroom of our one-and-a-half story house. Under the window was a waist-high book shelf that housed an enormous collection of teen magazines. They contained everything from Bo Derek's braids to the Bee Gees. One thing they didn't contain however was the precious letter I held in my hand.
It was from my sister. An older sister who was lending advice and encouragement.
Remember one thing, she wrote, encouragement is like a cottonwood tree. When the weather is warm, the tree releases it's seeds that float in the air like little white clouds. They're gentle yet powerful seeds. 
Over the years I've come to realize the truth of those words. Gentle encouragement is a powerful force.
It's the cheer at the end of a race that gives a runner that final push to the finish.
It's the nurturing of a parent that instills confidence in their child's life.
It's the words of a spouse who inspires you to grow in God's grace.
In Ephesians 4:29 we read, "Let no corrupt communication proceed out of your mouth, but that which is good to the use of edifying, that it may minister grace unto the hearers."
To edify someone is to uplift them. The word originally meant, "to construct a building."
To encourage someone is to "instil courage" in them.
Studies show that women speak an average of 20,000 words/day.1
The question is, are we using those words wisely? Are we using them to edify and encourage each other or are we tearing each other down?
I pray that we are, but if not let's get down on our knees and ask God to start leading our hearts and controlling our tongues.
In closing, let's look at 7 ways to edify our husbands:
By praying fervently. Pray that God would teach you to speak wisely and kind. Pray that God would shape your husband and give him the courage to be who he is called to be.
By reflecting the humility of Christ. Put pride aside for the good of your marriage and esteem him higher than yourself.
By allowing him to lead your family. Help when you need to–some husbands need and want a lot of help–but also be willing to step aside when you should and allow him to lead.
By allowing him to be less than perfect. Keep in mind that he's walking and growing in grace.
By celebrating his accomplishments and by acknowledging them.
By seeing him for who he is, not who you expect him to be. And if he does need to change then pray for him daily.
By acknowledging his inner strength. Take note of his courage, his kindness, his sincerity, etc. and let him know that you admire these things about him.
You are loved by an almighty God,
Darlene Schacht
The Time-Warp Wife
1Catherine Griffin, Science World Report 2/20/2013
Quieting Your Heart For the Holidays: 30-Day Prayer Journal
is available now at Amazon!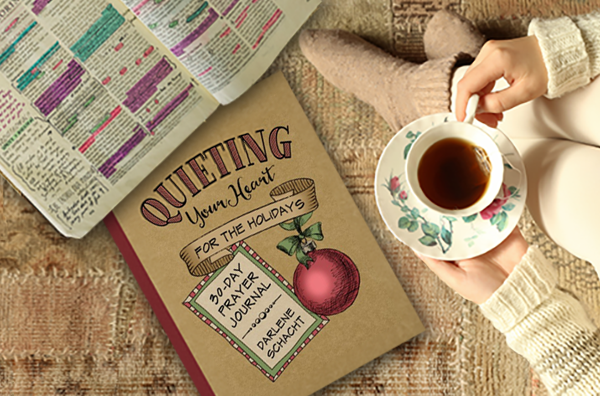 Click here to take a peek inside the book,
and find out about our new series, "Quieting Your Hear for the Holidays."