An Exciting Announcement – 100 Prayers For Your Marriage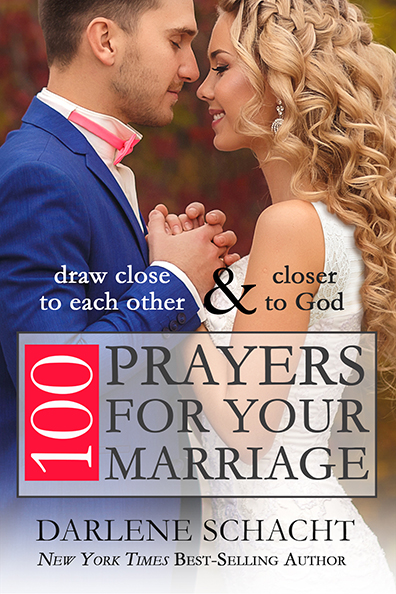 Available now on Amazon! 
A lot of you have been asking for this, and I've been listening. Readers wanted a book they could hold in their hands, and one they could offer young couples. It's finally here–a book of our first 100 prayers.
Unlike other books, it's not just for wives. Each one of these prayers were written with couples in mind.
Draw Close to Each Other and Closer to God
It's easy to say, "I love you," but not so easy to live it when we're called to be patient and kind. Love is more than a word, and so much more than a feeling. It's humility when we want to hold onto our pride. It's holding our tongue when we want to lash out. It's a kind word when we're angry and hurt. It's perseverance when we want to give up.
Satan is out to destroy your marriage, and in the process destroy you. It's for this reason that we are called to be fervent in prayer. Join hands together; ride beside each other in battle. Slay every thought and imagination that threatens your bond.
100 Prayers For Your Marriage is an invitation to draw close to each other and closer to God. It's a dare to fight for your marriage. It's a challenge to pray with, and for each other every day.
What you'll find in this book are 100 prayers including topics like:
Employment
In-laws
Setting boundaries
Contentment
Communicating
Your differences
Your marriage bed
Gratitude
Sickness and health
Secular views
Marriage dedication
Home dedication
Forgiveness
Courage
Protection
Generosity
Wisdom
Compassion
Our purpose
Stress
Teamwork
Victory
Spiritual Growth
And the list goes on…
This book is available now on Amazon! Formats include paperback and Kindle.
You are loved by an almighty God,
Darlene Schacht
The Time-Warp Wife