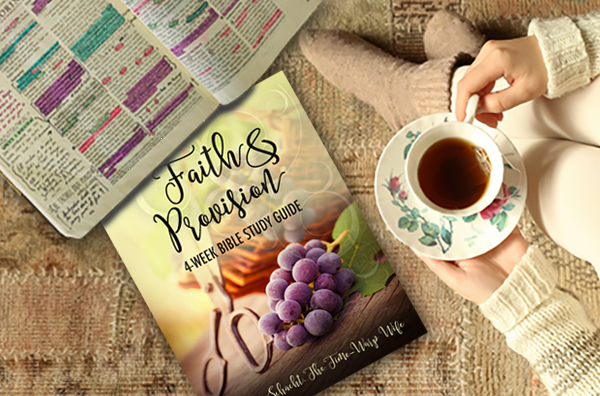 For more information on this study, including our free study guide, click here.
Wasn't this week's study amazing? I found it empowering knowing that God is working through me regardless of how small or incapable I might be.
I went through some stress this past week. Nothing much, but enough to make me restless. I started to worry about what I did wrong and how I could slay this giant looming before me. I got to praying right away asking for wisdom and strength. I felt like a complete failure.
And do you know what got me through?
8 little words. "I'm here because God wants me to be." I had to say that to myself a few times before it kicked in. I couldn't understand why, but after digging into the Word this past week I knew that understanding wasn't part of the equation. Trust was. I had to believe that God was at work behind the scenes. I had to trust that His wisdom excelled mine. I had to rejoice when I least felt like it. I had to trade my wisdom for His.
And you know what? The very next day things fell into place better than I ever imagined they would.
I was reminded of this quote by Martin Luther King, Jr. "Faith is taking the first step even when you don't see the whole staircase."
Even when we do think that we can see the whole staircase, we can't. Things could change at anytime. We can be heading in one direction today, and a completely different direction tomorrow. All we have is this moment to rejoice, and be thankful, and trust.
God always provides, in ways that excel the wisdom of man. Sometimes He pares us down first. He takes away the things we think are important so that we might learn the importance of trusting, and leaning, and hoping for things that are beyond the scope of this world.
Below you'll find my recap of this week's study. Hop onto my Facebook page, if you'd like to join our discussion.
You are loved by an almighty God,
Darlene Schacht
The Time-Warp Wife

David and Goliath – 1 Samuel 17
When we follow God's will, there will always be opposition. For David it was his brother Eliab who tried to discourage him by saying that David was mischievous and proud. Words like that sting. Satan will use people, even those close to us, to bring us down. They'll tell us that we're not good enough, we're not experienced enough, and that we have bad intentions. They'll tell us that we're sinners not worthy to be in God's service… We might even tell ourselves the same things.
But here's the interesting part. The battle wasn't between David and Goliath. It didn't matter how experienced David was. It didn't matter how tall or how small he was. The battle belonged to the Lord, and Satan wanted to prevent David from being there.
God's plan was to reveal His power through the weakness of man. And so he chose the young, the inexperienced, and the unarmed.
Another thing that's interesting to note is the contrast in armour. Goliath was swimming in armour, but David was clothed with the armour of God.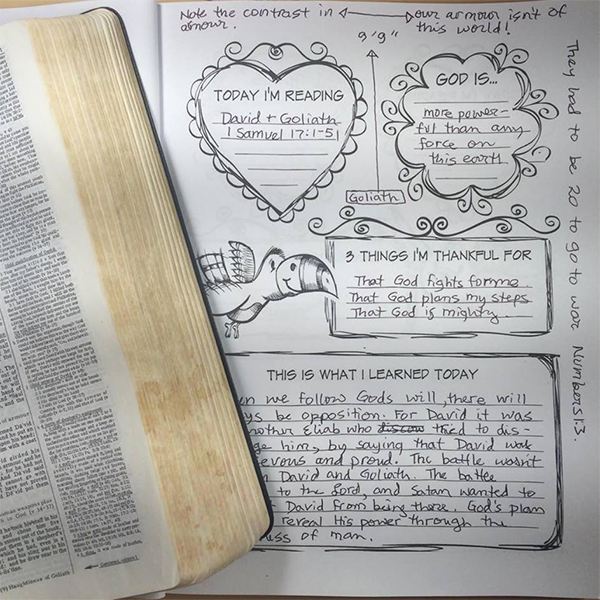 Quieting Your Heart: 6-Month Bible Study Journal (affil link)
The Battle of Jericho – Joshua 6:1-20
In this story, we see faith exercised in God's timing, according to His specifications, and not without the ark of the covenant.
I see the ark as a representation of the faith in the covenant they had with God. Not only His laws, but His promises to them.
Our covenant is in Jesus Christ. By Him came fulfillment of the law. Our new covenant is with Him, our faith is in Him.
God's plan to take down the walls may have seemed foolish to man, but it teaches us to trust in God's wisdom at all times.
"The foolishness of God is wiser than men." – 1 Corinthians 1:25
Obedience must always come before wisdom, or what we believe to we wisdom.
Quieting Your Heart: 6-Month Bible Study Journal (affil link)
Gideon and the Small Army – Judges 7:1-25
God uses people to display His glory, not by their strength, or power, or numbers, but by His strength alone.
Paul wrote about the power of God through his weakness saying, "My grace is sufficient for thee, for my strength is made perfect in weakness." And "for when I am weak, then am I strong" (2 Corinthians 12:9&10)
There have been times when God has allowed me to be "pared" down so that He might prepare me for bigger things. Times when friendships have crumbled, people have moved on, I lost a job that I thought was everything at the time, finances were tough, my children were sick…
Those times of paring down are times of growth, because I learn to trust less in this world. I learn to lean on my savior for everything that I have. I learn to trust Him with the next step. I learn that where I am and what I have at this moment is more than enough because He is at work.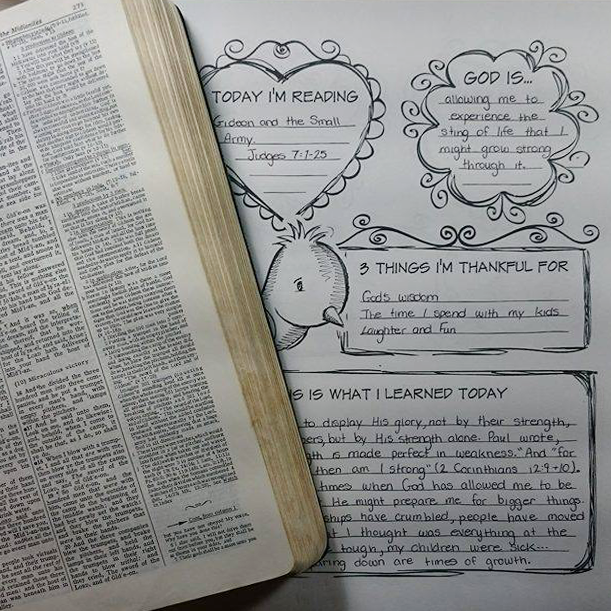 Quieting Your Heart: 6-Month Bible Study Journal (affil link)

Click here to download and print this week's coloring page.