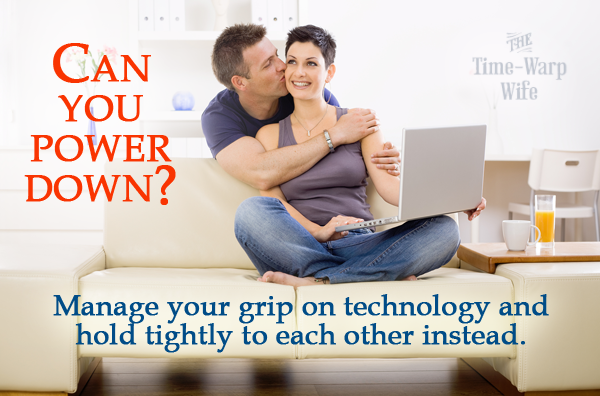 We're continuing our Women Living Well series today. The topic this week is finding joy in your marriage. 
The kids are all tucked in bed.  I'm scanning my Facebook page and writing a to-do list for the next day.  Out of habit, I stop to check my email.  It's only been 30 minutes since I checked it last, but you never know what someone what need from me even at night.
In the other room, I hear my husband James turning off his computer.  He's walking towards me and although he's not saying a word, I hear his voice loud and clear.
It's time to power down.  
It's time to unplug. 
The work will still be there tomorrow. 
Come on, let's have some time together. 
You see, many months ago, we realized we were both glued to our screens at night.  When the kids were in bed, I could catch up on emails uninterrupted.  James could watch a home repair video for his latest project or catch up on news.
But as you know, emails, social media and news is never ending.  So James had a simple request.  Since we were already on our computers for work much of the day, could we turn off our devices after the kids go to bed?
Gulp.  "Okay," I said feebly.
Courtney experienced something similar in her marriage. On page 70 of Women Living Well, she writes:
Our world changed when I got a laptop (and later an iPhone). Now we could sit beside each other on our laptops! The tapping no longer bothered me because I was tapping too. I entered the world of blogging, Facebook, Twitter, YouTube, and Pinterest. I loved all the connections…then the bottom fell out.

Technology began to be a main source of contention in our marriage. My husband would feel I was on the computer too much, and I could easily bring up his past to justify my time online and win the argument. But really we were both losing: losing our intimate connection with each other to the computer.
Courtney and her husband didn't stay in that spot. They found solutions to manage technology's grip so they could hold tightly onto each other instead. They let the phone go to voicemail during meals. Had a technology free evening every week after the kids went to bed. Logged hours in a notebook to look for areas that were time wasters.
I think these are great ideas. James and I have been able to enjoy many technology free evenings after the kids go to bed. It's wonderfully relaxing to turn all the switches to off and just be.
Psalm 46:10 says, "Be still and know that I am God."  Did you catch that?  Be still. 
Powering down our digital lives helps us to hear God's voice. We can better receive and give love in our marriages when we're unplugged from the grid and quiet before the Lord.
What have you done in your marriage that has helped manage technology?   Let's learn and encourage one another!
Blessings,
Arlene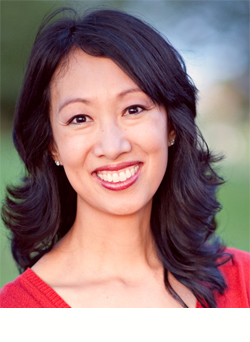 Arlene Pellicane is a speaker and author of 31 Days to Becoming a Happy Wife and 31 Days to a Happy Husband. She is currently writing a book with Dr. Gary Chapman (The 5 Love Languages) titled Growing Up Social: Raising Relational Kids in a Screen-Driven World (September 2014). She and her husband James live in Southern California with their three children. Arlene loves to encourage women in their journey to create happy homes that honor Christ. She has been featured on FamilyLife Today, K-LOVE, The 700 Club, Turning Point with Dr. David Jeremiah, and Home Made Simple on TLC. For free resources and more, visit ArlenePellicane.com.

Click the image above to join our Women Living Well book club on Facebook.
Pick up a copy of Women Living Well at Amazon