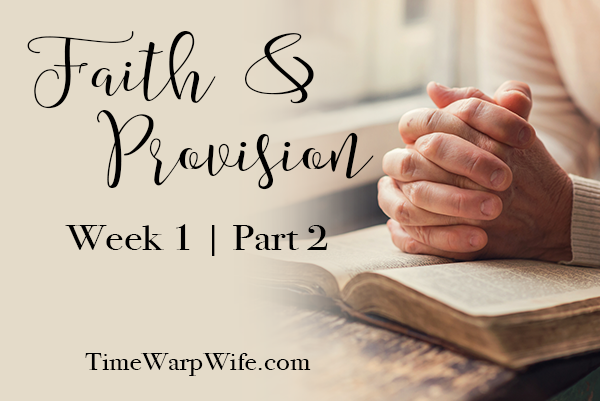 Do you know what I've noticed about most of my trials? There's not so much pain in the trial itself, but in the fear of what the outcome might be.
Reading Acts chapter 16, I was in awe of these men. After Paul and Silas were severely beaten, chained and imprisoned, they sang hymns to the Lord. Could I be that faithful? It's so much easier to hang on to our misery and fear than it is to exercise faith. It's easier to stress than it is to trust in the wisdom of God.
Let's take a look at this verse:
"They reel to and fro, and stagger like a drunken man, and are at their wit's end. Then they cry unto the Lord in their trouble, and he bringeth them out of their distresses." – Psalm 107:27-28
That's how most of us go through life. We wait until we're at wit's end before we cry out to the Lord. Here's an interesting little tidbit: the term "wit's end" originates from that verse in the KJV translation of the Bible.
The original Hebrew word was chokmah – defined as wisdom. (Strong's H2451)
The problem here is that we're waiting until our wisdom runs out before we choose God. God's wisdom doesn't always make sense to us. How could it possibly make sense when we can't see the whole picture? God sees today, He sees yesterday, and He sees tomorrow. He sees the heart and the flesh, He sees the struggle, He knows what next year will bring before the sun sets today.
What I found in our study this week is that men and women courageously followed God's will, when it didn't make sense.
Paul and Silas found peace in the midst of their trial because they believed that God's wisdom was greater than anything they understood to be true. Abraham was tested in a way that most of us couldn't even begin to imagine, but he courageously followed God's call. Not because it made sense to Him, but because He believed that God would make sense of it all–in His way and in His own time. And He did.
What I started to notice about God's provision is that He went ahead of them to prepare. Let that sink in for a minute. Consider how God is at work in Your own life. He goes before you to fight the battle before You even arrive.
In Joshua chapter two, we see God's provision again and again. He went ahead of the spies to prepare Rehab's heart that she might hide and protect them. And then He provides for Rehab by keeping her family safe.
But here's the thing. If you don't step out in faith–if you don't take that courageous step to choose joy, to give up that thing God requires of you, or to obey the Word of God when it doesn't make sense, you're closing the door to His provision and power.

Paul and Silas in Prison – Acts 16:16-40
AFTER they were severely beaten and thrown into prison, Paul and Silas sang hymns. One of the most difficult things we'll ever do is choose joy in the midst of a trial. It's so much easier to hang on to our misery and fear than it is to exercise faith. But faith gives us the opportunity to glorify God. Here we see Paul and Silas exercising their faith by remaining calm and choosing joy. Their faith was an incredible testimony that led the guard and his household to repentance.
Sinners want to know how they can use God for THEIR benefit. Faith-filled men and women want to know how they can be used by God for HIS benefit.
Tina on Facebook added this to the discussion:
I noticed that Paul was going to prayer when his trouble began. "And it came to pass, as we went to prayer,.." The next verse tells us he was sharing the gospel. "…which shew unto us the way of salvation." He's doing all the right things, and trouble still comes. And how does he respond? "And at midnight Paul and Silas prayed, and sang praises unto God:…" I believe those that are praying and praising before the trouble will find it easier to pray and praise in the midst of trouble.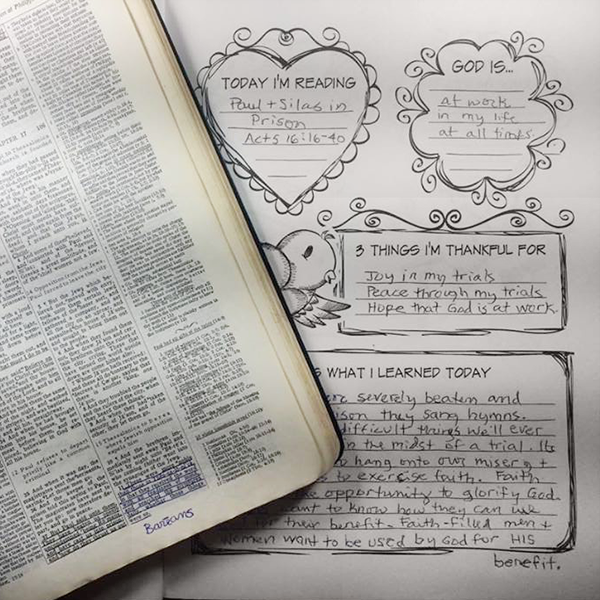 Quieting Your Heart: 6-Month Bible Study Journal (affil link)
Abraham is Tested – Genesis 22:1-19
Abraham was courageous. He was tested with the one thing that he held most dear in this world. That's how testing often is. It calls us to obedience, whether is makes sense to us or not.
I was reminded of the rich young ruler who asked Jesus what he needed to do to be saved. (Matthew 19)
Jesus said unto him, "If thou wilt be perfect, go and sell that thou hast, and give to the poor, and thou shalt have treasure in heaven: and come and follow me."
But when the young man heard that saying, he went away sorrowful: for he had great possessions."
The potential reward was far greater than his possessions ever could me.
I was also reminded of the many times I've been called to sacrifice my relationships to follow my faith. sometimes god calls us to sever an unhealthy relationship or to stand up for your faith when unbelieving family comes up against you.
Matthew Henry writes, "God proved Abraham, not to draw him to sin, as Satan tempts, but to show the dispositions of the heart, whether holy or unholy."
Quieting Your Heart: 6-Month Bible Study Journal (affil link)
Rehab Hides the Spies – Joshua 2:1-21 and Joshua 6:21-22
Rehab's faith is so courageous that she is mentioned twice in the new testament. It's beautiful to see God using broken people to build His kingdom. Regardless of where we have been God can use us.
She didn't simply lie to a fellow neighbour or friend. She lied to the King which could have very well meant losing her life.
The thing about faith is that we never see God's providence until we step out in faith. Only then can we allow Him to work in our lives and open up doors we never expected to walk through.
Quieting Your Heart: 6-Month Bible Study Journal (affil link)

Click here for your new coloring page. Come back on Monday for another one!