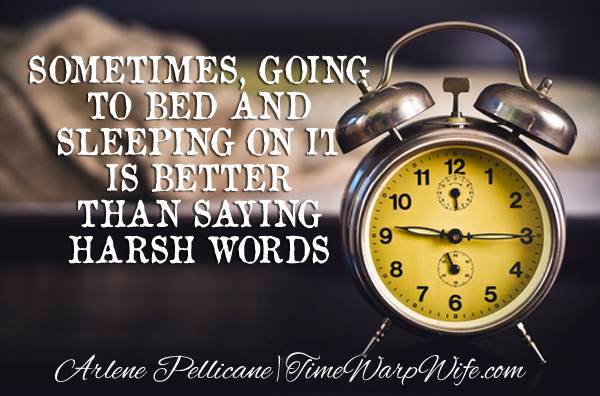 James and I were in bed.  He wasn't upset about anything, but I was still mulling over our animated conversation about our middle child who just started 3rd grade (we attend year round school, so the break is over!).
She came home with a mediocre score on her times tables.  I wasn't panicked.  It's the beginning of the school year.  She'll get it.
James, on the other hand, thought it was time to hit the panic button.  He printed out those times tables right away and sat down with our daughter.  He taught.  He made little flash cards.  He drilled.  He quizzed.
He was having a hard time understanding why I didn't see the urgency.
I was having a hard time, feeling like he was overreacting.
So as we lay in bed, I was upset.  Why is he so strict?  I felt inadequate.  Maybe I should be more proactive with academics. 
But it didn't feel right to wake him up to talk about something that wasn't even an issue to him.  So I prayed about it and fell asleep.  I admit, I was a little bit mad.
The next morning, I woke up and I wasn't angry anymore.  Those feelings of indignation had melted away in the night.
And wouldn't you know it…that day, I picked up a book by Shaunti Feldhahn, The Surprising Secrets of Highly Happy Marriages.  One of the chapters was titled "Highly Happy Couples Go to Bed Mad."
I flipped to it right away.
In her research with highly happy couples, she discovered that highly happy couples find that when they can't resolve conflict and anger before bedtime, they choose to sleep on it.  If anger remains in the morning, they don't let it go unresolved; they deal with it.
Most likely, you are very familiar with the verse in Ephesians 4:26 (NKJV),
Be angry, and do not sin: do not let the sun go down on your wrath.
But look at this verse in Psalm 4:4 (NKJV) which has the same beginning but a different ending:
Be angry, and do not sin.  Meditate within your heart on your bed, and be still.
Wow…I had never noticed that before.
As a couple, you want to do your best to resolve conflict and forgive before bed time.  But sometimes, going to bed and sleeping on it is better than saying harsh words at 2:00 am.  Or in my case, waking your husband from a sound sleep just to tell him he made me mad when he was acting like a smarty-pants.
Shaunti Feldhahn asked a pastor she deeply respected about his take on the "do not let the sun go down" passage.  His answer is illuminating:
Quite simply, that verse keeps the pressure on.  We may not resolve it by the end of the day, but it motivates us to move back to oneness.
We should always be motivated to move back to oneness, to resolve anger and conflict the best we can so we can live in unity.
You know what happened with my math-crazy husband?  His pupil – our daughter – went to school the next day.  She went from 6 problems completed in one minute to 24 problems completed!  She improved that drastically after just one evening of daddy drilling.
I couldn't believe the difference.
My anger and irritation towards my "overreacting, know-it-all" husband turned to admiration.  He saw that she could do more, and he helped her get there.
Have there been times in your marriage when you went to bed a little mad?  Did you resolve it the next day?  Did you find it wasn't as big of an issue the next day?
Arlene Pellicane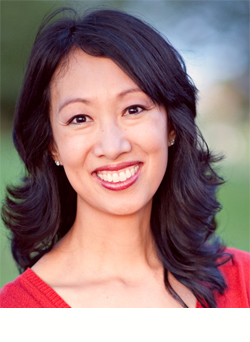 Arlene Pellicane is a speaker and author of 31 Days to Becoming a Happy Wife and 31 Days to a Happy Husband. She is currently writing a book with Dr. Gary Chapman (The 5 Love Languages) titled Growing Up Social: Raising Relational Kids in a Screen-Driven World (September 2014). She and her husband James live in Southern California with their three children. Arlene loves to encourage women in their journey to create happy homes that honor Christ. She has been featured on FamilyLife Today, K-LOVE, The 700 Club, Turning Point with Dr. David Jeremiah, and Home Made Simple on TLC. For free resources and more, visit ArlenePellicane.com.