Please note: There is a correction we need to make in the study guide for Romans chapter 14.
The question is, "How does this judgment differ from 1 Corinthians 9-12?"
What it should say is 1 Corinthians 5:9-12. So sorry!

Tune in Tonight!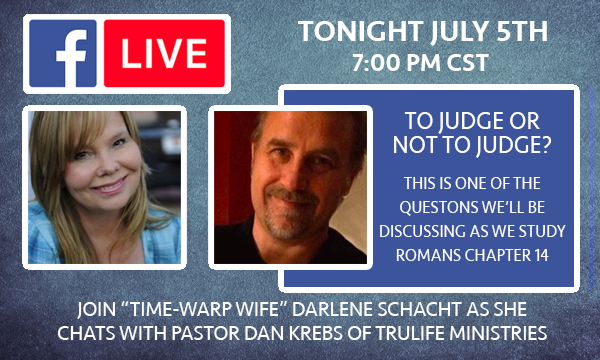 7 pm CST www.facebook.com/timewarpwife
Since last week's live video blew up my facebook page, I've asked Pastor Dan Krebs to return as we discuss Romans chapter 14. One of the topics we'll be discussing is judgment–when is it right and when is it wrong?
I'll be giving away a $50.00 gift card to one of the viewers who shares our video, so make sure you tune in!
Here's the address: @timewarpwife The time is 7pm CST. I'll see you then! 
Follow Dan on Facebook. You can find his page here: Pastor Daniel Krebs