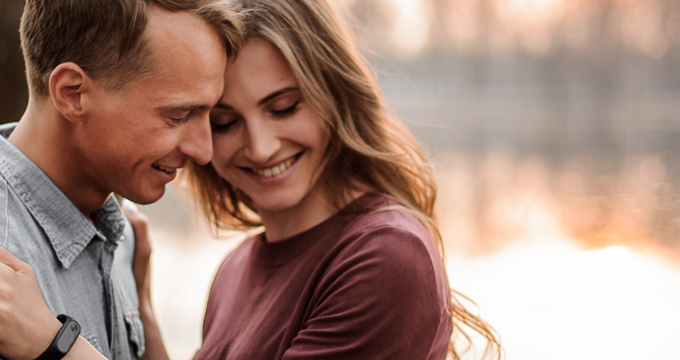 I was a pencil-thin teen. The fact is that I didn't care much for food back then. I didn't hate it, it just wasn't a priority to me–my social life was. Mom had dinner on the table every evening at 5 pm, but with volleyball, basketball, track and field, shopping… I'd often miss that 5 o'clock deadline and grab something to eat on-the-go. That is if I remembered to eat.
One afternoon, on my way home from school, I fell down the steps. Funny thing is, that wasn't the first time it happened that day. I also fell down the stairs inside the school mid-afternoon, and just hours before that I tripped down the stairs in our house.
When I got home from school, I mentioned it to my mom, "I fell down the stairs three times today," I said. "Isn't that odd?"
"When was the last time you ate?" she asked.
I had to think about that for a minute because it wasn't just hours–it had been a few days. I was running on empty, in desperate need of some fuel. My body knew it, but my attention had been somewhere else.
---
If you haven't done so already,
make sure to subscribe, so you don't miss a post: 
---
There's a reason we can't go day after day without eating. There's a reason, we can't go without sleep. God has designed our physical bodies to reflect the spiritual bodies within. We need to be fed, we need drink water, and we need to have rest. In essence, our bodies were designed to point us to Christ.
For since the creation of the world God's invisible qualities—his eternal power and divine nature—have been clearly seen, being understood from what has been made, so that people are without excuse. – Romans 1:20 
In the same way that our bodies need to be fueled every day, our spirits need to be fueled. And if they aren't well fed? We're certain to fall.
Do you wait until a building falls before you shore up the foundation? Or do you build a strong foundation first to ensure that it won't?
"Therefore everyone who hears these words of mine and puts them into practice is like a wise man who built his house on the rock. The rain came down, the streams rose, and the winds blew and beat against that house; yet it did not fall, because it had its foundation on the rock." – Matthew 7:24-25, NIV
In the same way, don't wait for your marriage to crumble. Don't wait until you have your next fight. Don't wait until you're in the midst of a trial to pray your way out. The best strategy for your marriage is to start praying today. Strengthen the foundation before the house falls.
I'm excited about the challenge this week (see below) because I know that prayer is life changing! I'm confident that everyone who takes this challenge will be strengthened by it. Our spirits will be refreshed, our minds will be set on the Lord, and our marriages will be stronger for it!
I offer daily marriage prayers on my other blog. If you'd like to get them sent to your inbox, hop over there and subscribe.
---

---
In addition to that link, I'll give you seven prayers today to get you started this week:
1. For Endurance
Dear Heavenly Father,
Give us the strength to endure to end—to have and to hold as long as we both shall live.
We live in a culture where people upgrade their smart phones, their computers, their homes, and in many cases—their spouse. Gone are the days when people held to the promise they made to endure till the end.
There's stress and there's strain, and some days there's more heartache than we imagined there would be, but we're in this together, and we're not letting go.
Love is beautiful, but it's messy at times, and so we're asking for Your wisdom and strength to see us through to the end.
In the name of Jesus we pray. Amen.
Be kindly affectioned one to another with brotherly love; in honour preferring one another; not slothful in business; fervent in spirit; serving the Lord; rejoicing in hope; patient in tribulation; continuing instant in prayer. – Romans 12:10-12, KJV
2. For Patience in Tribulation
Dear Heavenly Father,
Your Word teaches us to be patient. James chapter five tells us to take an example from the prophets who patiently waited on You.
We see Job who endured years of tribulation and trials. And even when He couldn't see You at work in his life, he said, "But he knoweth the way that I take: when he hath tried me, I shall come forth as gold." (Job 23:10)
Give us the patience to wait on You regardless of how long we must wait.
We see Elijah who fervently prayed for rain, but didn't see any rain for three years. Still, he patiently waited on You.
If we're afflicted and if we're sick, may we bring it to prayer, with the patience of Job who trusted in Your sovereign power.
And help us to remember the ones who have gone astray, Lord. Instead of giving up on them, may we fervently pray that they would return to the faith they once had.
In the name of Jesus we pray. Amen.
Take, my brethren, the prophets, who have spoken in the name of the Lord, for an example of suffering affliction, and of patience. Behold, we count them happy which endure. Ye have heard of the patience of Job, and have seen the end of the Lord; that the Lord is very pitiful, and of tender mercy. – James 5:10-11, KJV
3. The Temptation of Social Media
Dear Heavenly Father,
Give us the wisdom to choose well, and the strength to say "no" when we should.
The internet is one of the greatest temptations we face when it comes to guarding our minds. Sin is merely one click away. One peek, one look, one glance… and soon we're drawn away by our lust.
Satan knows what appeals to us most. Like a lion after his prey, he watches and waits until our guard is down before he attacks.
Give us the strength to resist him, and the power to cast down the arguments that come with temptation. Help us to walk away from sin, making wise choices that are pleasing to You.
Teach us to live as though Jesus was coming today. May the blessed hope of His return dictate our lives in such a way that we might stand before You, having done all to stand.
We don't know the day or the hour, but we do know that He comes like a thief in the night. And so we want to be ready. May we stand guard of our hearts and our home, as we prepare for the return of our Saviour and Lord.
In the name of Jesus we pray. Amen.
Blessed are those servants, whom the lord when he cometh shall find watching: verily I say unto you, that he shall gird himself, and make them to sit down to meat, and will come forth and serve them. And if he shall come in the second watch, or come in the third watch, and find them so, blessed are those servants. And this know, that if the goodman of the house had known what hour the thief would come, he would have watched, and not have suffered his house to be broken through. Be ye therefore ready also: for the Son of man cometh at an hour when ye think not. – Luke 12:37-40, KJV
4. For God's Power and Strength
Dear Heavenly Father,
As long as we're on this earth, we'll have trials. As long as we're here, we'll have pain, which is why we need to stand strong together–for better or worse until death do us part.
Our home could be gone tomorrow, our house could be gone today, our health could fail us at any moment, and our jobs could be taken away.
If we didn't trust in Your wisdom, we'd have nothing to stand on when the bottom falls out. If we didn't believe that there was more in store for us than this passing world, we wouldn't have the peace that we do.
It's by Your strength that we're more than conquerors. Your compassionate grace gives us hope. Your providence offers rest to the weary soul. Your power and might sustain us when we can't stand on our own.
Thank You for Your goodness and strength, Lord. Teach us to trust in Your wisdom. Teach us to rest.
In the name of Jesus we pray. Amen.
Nay, in all these things we are more than conquerors through him that loved us. For I am persuaded, that neither death, nor life, nor angels, nor principalities, nor powers, nor things present, nor things to come, Nor height, nor depth, nor any other creature, shall be able to separate us from the love of God, which is in Christ Jesus our Lord. – Romans 8:31-39
5. Giving Thanks for Your Spouse
Dear Heavenly Father,
Day after day we come to you asking for help, and without hesitation You listen. You help, You strengthen, You transform our marriage, and draw us closer to You.
You've given us so many reasons to give thanks for this marriage. The gift is immense–the blessings are countless, and so today we want to give thanks.
Thank You for this friend who walks with me through better or worse.
Thank You for this intimate lover who quiets my soul.
Thank You for this confidant I can trust above anyone else.
Thank You for this companion I can laugh with, and one who wipes away tears.
Thank You for this partner who keeps me accountable and sharpens my soul.
Thank You for this ally who prays for me and hopes for the best in me.
Thank You for this advocate who defends my honour and keeps my heart safe.
Thank You for my better half who makes me better because I am loved.
Thank You for the one who is one with my soul.
In the name of Jesus we pray. Amen.
The watchmen that go about the city found me: to whom I said, Saw ye him whom my soul loveth? It was but a little that I passed from them, but I found him whom my soul loveth: I held him, and would not let him go, until I had brought him into my mother's house, and into the chamber of her that conceived me. – Song of Solomon 3:3-4, KJV
6. For Your Marriage Bed
Dear Heavenly Father,
You've never left us in the dark when it comes to the topic of intimacy. You've instructed us in scripture, You've written Your law upon our hearts, and You've given us a conscience to follow You by.
Thank You for Your wisdom and guidance. Help us to honour both You and our marriage in this area of our lives.
1 Corinthians 7:5 warns us not to deprive each other, unless it's by agreement and for a time. We understand the importance of mutual fulfillment, and we want to be intimate with each other in the best way we can.
If we're tired, stressed out, irritable, or distant, give us the strength to work through our problems so that we can be the intimate partner we need to be. Give us a heart of understanding, and patience for each other as well.
May our hearts be pure, and our bed undefiled. Help us to keep our eyes on our marriage and away from the world. Eliminate any thoughts that would draw us away from Your will and the one that we love.
In the name of Jesus we pray. Amen.
Marriage is honourable in all, and the bed undefiled: but whoremongers and adulterers God will judge. – Hebrews 13:4, KJV
7. The Battle Against the Flesh
Dear Heavenly Father.
Help us to live our best life. Give us the power and strength to let go of the baggage that's weighing us down. To say "no" to ungodliness, and say "yes" to a self-controlled, godly life.
We both struggle in different ways. We have different temptations and battles that we're fighting against. But we serve the same powerful God.
With one Word, you're able to strengthen, sustain, and establish our way. With one hand You hold the power of life.
In Romans chapter 7, Paul writes, "For the good that I would I do not: but the evil which I would not, that I do."
We know that struggle too well, Lord. Life is a constant battle against the flesh, and some days it feels like we're losing. It's hard to get up when we keep sliding back. The sense of defeat weighs heavy on us, and so we ask that You lift it, as You carry us through.
Our flesh is at war with the Spirit, and we desperately want our spirit to win.
Not that we can say of ourselves, "We have won!" But that we might say, "Greater is He that is in me than He that is in this world!"
In the name of Jesus we pray. Amen.
For the grace of God that bringeth salvation hath appeared to all men, teaching us that, denying ungodliness and worldly lusts, we should live soberly, righteously, and godly, in this present world; looking for that blessed hope, and the glorious appearing of the great God and our Saviour Jesus Christ; who gave himself for us, that he might redeem us from all iniquity, and purify unto himself a peculiar people, zealous of good works. – Titus 2:11-14, KJV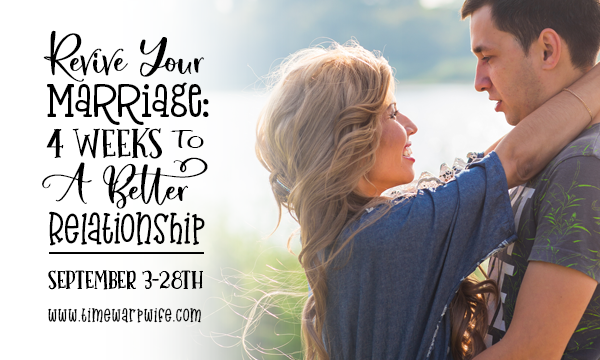 You are loved by an almighty God,
Darlene Schacht
The Time-Warp Wife
P.S. Come back here on Friday for week 2/part 2 in our "Revive Your Marriage" series. 
Considering a gift to Time-Warp Wife Ministries? Click here to donate.
---
THIS WEEK'S CHALLENGE
Make a conscious habit to pray for your marriage throughout the day. Take time here and there to commune with the Lord and bring your husband before Him.
---
BIBLE READING FOR THE WEEK
R – Read Daniel chapters 5-6. Also read Psalm 5.
E – Expand on questions you might have as you're reading (dig deep and take notes).
A – Ask yourself how you can apply this scripture to your marriage.
D – Decide if there are any changes you need to make or actions you need to take.
The story of Daniel is a great fit for this week as we see him praying to God three times a day. He's a prime example of someone who believed in the power of prayer. We see that he valued prayer more than he did his own life, which is what makes his story so incredible.  I've also included a Psalm because it's a beautiful focus for this week as we're offered a glimpse into the prayer life of David.
---
BIBLE VERSE
Rejoice evermore. Pray without ceasing. In every thing give thanks: for this is the will of God in Christ Jesus concerning you. – 1 Thessalonians 5:16-18
---
RELATED RESOURCES
Messy Beautiful Love: Hope and Redemption for Real-Life Marriages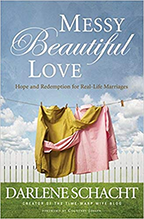 by Darlene Schacht | Available at Amazon.com  (affil link)
Love gets messy.
Financial problems, sickness, aging parents, a chronically unhappy spouse . . . trials will inevitably come that threaten your marriage. No matter how long you've been married or how strong your relationship is, sooner or later you are going to have a mess to clean up.
MessyBeautiful Love is about cleaning up messes God's way, exchanging your ideas for His, and being prepared for both the best and the worst that marriage has to offer.
---
ABOUT THE AUTHOR
Darlene Schacht and her husband Michael live in Manitoba Canada where the summers are warm and the winters are cold. Together they've come to learn that relationships aren't always easy, but that marriage, the way God intended it to be, is a treasure worth fighting for.
She began her publishing journey about twelve years ago when she pioneered one of the first online magazines for Christian women, known at the time as "Christian Women Online Magazine." After three years, Darlene left CWO to blog as a solo author at Time-Warp Wife Ministries.
It was also during this transition that she worked alongside actress Candace Cameron Bure to write the NYT Best-Selling book, Reshaping it All: Motivation for Spiritual and Physical Fitness. Reshaping it All was the winner of both the 2011 USA Best Book Awards and the 2012 Christian Reading Retailers Choice Awards.
Author of more than 15 books, Darlene continues to write and to minister to her readers through her blog at TimeWarpWife.com.
Connect with Darlene:
Facebook: @timewarpwife
Instagram: @timewarpwife
Pinterest: @timewarpwife
Twitter: @timewarpwife
---