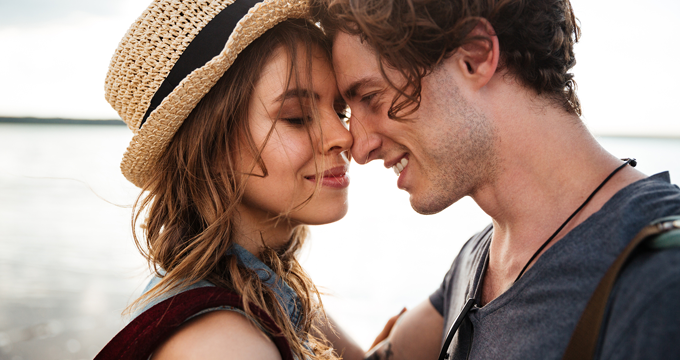 As I got to thinking about this post, the first question I asked myself was, "What does the Bible have to say about a good attitude?" I was led to the life of Jesus Himself who walked in humility, esteemed others higher than Himself and suffered for those that He loved.
Opening my Bible to Philippians chapter 2, I read this:
 In your relationships with one another, have the same mindset as Christ Jesus: who, being in very nature God, did not consider equality with God something to be used to his own advantage; rather, he made himself nothing by taking the very nature of a servant, being made in human likeness. And being found in appearance as a man, he humbled himself by becoming obedient to death— even death on a cross! – Philippians 2:5-8, NIV
Here we see that Paul has laid out the ground rules for marriage. Certainly, we know that Paul had a broader scope in mind when he wrote those words, but the fact is that if we want to be an effective part of the body of Christ, this has to start in the home, and more specifically it has to be taken to heart.
---
If you haven't done so already,
make sure to subscribe, so you don't miss a post: 
---
For several years, my blog carried the tagline, "Empowering Wives to Joyfully Serve." Today I've returned to those words. Why? Because servanthood is the highest position one could ever hope to achieve. It's easy to be self-centered, to look inward, and seek to even the score. What isn't so easy is having the mind of Christ, who was willing to wash dirty feet when He could have been king.
Some readers have found that tagline offensive because after all, we're all created equally. While that's true, we must follow the lead of our Savior who never considered equality something to be used for His own advantage. He took on the nature of a servant and humbled Himself before His Father and man.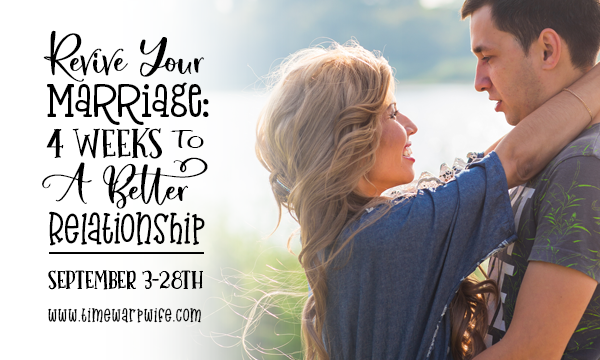 In Matthew chapter four we see that Jesus was fasting for forty days when Satan appeared in the desert to tempt Him. He took Jesus to a high mountain, showed Him all of the kingdoms of the world and offered them to Him on one condition–He'd have to bow down and worship Satan.
Jesus said to him, "Away from me, Satan! For it is written: 'Worship the Lord your God, and serve him only.' (Matthew 4:10, NIV) 
Don't bow down to sin. Don't allow it to govern your life. Don't let negative thoughts dictate your attitude. Choose God and keep choosing Him when the going gets tough.
If I could give you one piece of advice today, it would be this: value humility. Humility draws us closer to God while it softens the clay in His hands. Its the only way to truly empty ourselves, to make room for His will.
We're all going through this–you, me, the woman sitting beside you in church… Our faith is being tested day after day. Marriage can be tough at times. Let me rephrase that–Marriage IS tough at times.
I used to let bad situations define my marriage. If we disagreed on something, and I was feeling terrible about it, I started to wonder if I had a bad marriage. I soon discovered that even the best marriages experience the same struggles that we do. The question isn't whether or not we're going to have bad days, the question is how are are we going to handle them?
We don't have the ability to control our surroundings, but we do have the ability to choose our attitude and ensure that our actions line up with God's Word.
Are we willing to give up our pride when we're mad? Are we willing to forgive before we're forgiven? Are we willing to put the needs of each other above our own? Are we willing to suffer a little discomfort to do what is right? Are we holding our tongues or lashing out when we're angry? These decisions, as small as they might seem at the time are paving the road for your future.
Choose well. Choose love. Choose Christ.
You are loved by an almighty God,
Darlene Schacht
The Time-Warp Wife
P.S. Come back here on Friday for week 1/part 2 in our "Revive Your Marriage" series. 
Considering a gift to Time-Warp Wife Ministries? Click here to donate.
---
THIS WEEK'S CHALLENGE
Begin to notice the decisions you're making internally this week, and make a special effort to choose well. Don't let pride, anger, or disappointment have a say in this decision, but rather choose humility, kindness, and joy.
---
BIBLE READING FOR THE WEEK
R – Read Genesis 37-46
E – Expand on questions you might have as you're reading (dig deep and take notes).
A – Ask yourself how you can apply this scripture to your marriage.
D – Decide if there are any changes you need to make or actions you need to take.
Joseph is a prime example of someone who was willing to shape his attitude according to God's will. Despite all of the pain he endured, he remained fair and giving and kind. He could have easily let his circumstances dictate his actions, but he chose to forgive, he chose to be kind, and he chose to trust God.
---
BIBLE VERSE
But the fruit of the Spirit is love, joy, peace, forbearance, kindness, goodness, faithfulness, gentleness and self-control. Against such things there is no law. – Galatians 5:22-23, NIV
---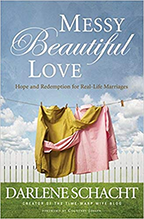 RELATED RESOURCES
Messy Beautiful Love: Hope and Redemption for Real-Life Marriages
by Darlene Schacht | Available at Amazon.com  (affil link)
Love gets messy.
Financial problems, sickness, aging parents, a chronically unhappy spouse . . . trials will inevitably come that threaten your marriage. No matter how long you've been married or how strong your relationship is, sooner or later you are going to have a mess to clean up.
MessyBeautiful Love is about cleaning up messes God's way, exchanging your ideas for His, and being prepared for both the best and the worst that marriage has to offer.
---
ABOUT THE AUTHOR
Darlene Schacht and her husband Michael live in Manitoba Canada where the summers are beautiful and the winters are cold. Together they've come to learn that relationships aren't always easy, but that marriage, the way God intended it to be, is a treasure worth fighting for.
She began her publishing journey about twelve years ago when she pioneered one of the first online magazines for Christian women, known at the time as "Christian Women Online Magazine." After three years, Darlene left CWO to blog as a solo author at Time-Warp Wife Ministries.
It was also during this transition that she worked alongside actress Candace Cameron Bure to write the NYT Best-Selling book, Reshaping it All: Motivation for Spiritual and Physical Fitness. Reshaping it All was the winner of both the 2011 USA Best Book Awards and the 2012 Christian Reading Retailers Choice Awards.
Author of more than 15 books, Darlene continues to write and to minister to her readers through her blog at TimeWarpWife.com.
Connect with Darlene:
Facebook: @timewarpwife
Instagram: @timewarpwife
Pinterest: @timewarpwife
Twitter: @timewarpwife
---
If you haven't done so already,
make sure to subscribe, so you don't miss a post: