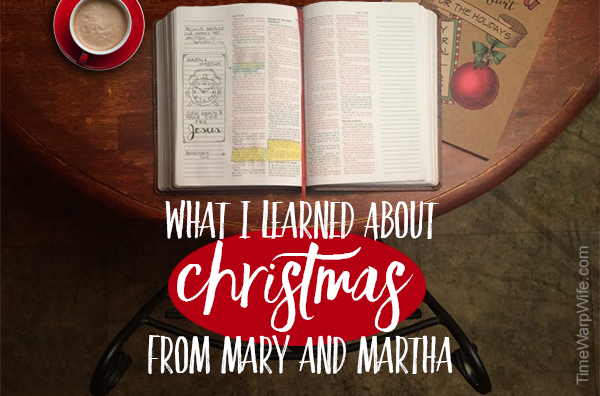 Christmas tends to put my stomach in knots. The thought of cooking for a crowd, and doing it well, makes me nervous for weeks in advance. I'm always afraid I'll forget something, or do something wrong. Every part of the process, from shopping through to serving, drags me out of my comfort zone.
I know I'm "supposed" to be great at this. At least that's what I expect from myself.
Earlier this evening I went to the mall with big expectations. I wanted my gifts to be beautiful this year, and so I picked up a bunch (3 rolls) of wire ribbon to make those fancy bows I've been seeing on Pinterest.
"My gifts will look so gorgeous this year!" I thought.
Then I got home, ripped open the package and found out that one roll makes one ribbon. One. *Sigh*
So I made the bow, and it didn't look amazing. It looks like I tried. Hard.
And then the voice of Jesus speaks to me from last night's devotions, "Martha, Martha, thou art careful and troubled about many things."
I took a closer look at the scripture today:
Now it came to pass, as they went, that he entered into a certain village: and a certain woman named Martha received him into her house. And she had a sister called Mary, which also sat at Jesus' feet, and heard his word. But Martha was cumbered about much serving, and came to him, and said, Lord, dost thou not care that my sister hath left me to serve alone? bid her therefore that she help me. And Jesus answered and said unto her, Martha, Martha, thou art careful and troubled about many things: But one thing is needful: and Mary hath chosen that good part, which shall not be taken away from her. – Luke 10:38-42
And it taught me something about Christmas.
His admonition to Martha had nothing to do with homemaking and everything to do with keeping a balance that is pleasing to God. If our priorities aren't straight, they'll distract us from God.
Matthew Henry writes, "Worldly business is a snare to us, when it hinders us from serving God, and getting good to our souls. What needless time is wasted, and expense often laid out, even in entertaining professors of the gospel."
And so I take another look at all this, and I say to myself, I might not be the best at making bows, but I can certainly make time to spend in the Word. I might not be the best homemaker, but I can make a home that loves others to Christ. I might be inadequate when it comes to serving my guests, but I can serve them with joy.
Christmas can be distracting in so many ways. We live in a commercialized world that can easily draw our attention away from Lord. Our desire to "do it all" can overshadow our priorities. And serving others? That's a wonderful ministry, but as we learn from scripture, even that needs to be kept in check.
You are loved by an almighty God,
Darlene Schacht
The Time-Warp Wife
---
30-Day Prayer Journal
Now available at Amazon!