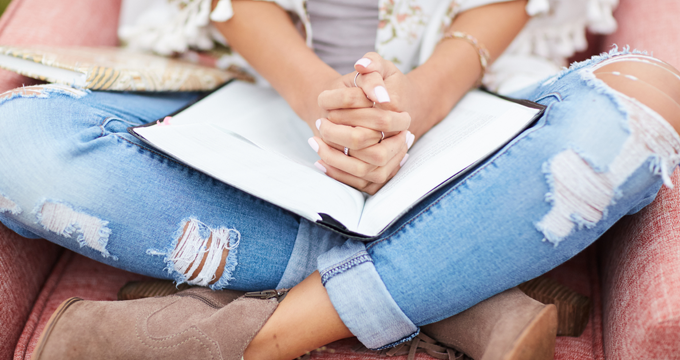 As we left the drive-through, I happened to notice two identical cars crossing our path–little red hatchbacks. In a split second, I got to thinking about the color red, and how much I loved red cars.
My last car was a little red Yaris which my son is using to go back and forth to school. The one I'm driving now is a cherry red Volkswagen Beetle convertible. By the way, if you like Volkswagen Beetles, you're my kind of girl. If you love vintage Volkswagen Beetles, we're best friend forever! My dad had a light yellow Beetle back in the day. With a trunk barely large enough to fit Mom's purse, our family of eight managed to make do with one car. One adorable car. And I've loved them ever since.
What do two little red cars have to do with anything? Not much really, except for the fact that I took note of their color.
"Think about the color red," I told my son. "Now look over at the mall parking lot. Do you notice all the red cars?"
We both did. And for the next ten minutes, I also noticed the red stop signs, the red advertisements lining the street, and the little red convertible that turned left on the highway as we waited for our light. I got to thinking about this idea just now, and I really don't remember seeing any yellow, blue, black, or silver cars. Obviously, I must have driven by hundreds of them today, but there isn't a single one I can pinpoint, and definitely say, "I remember passing that car."
Do you know what this tells me? We tend to notice the things we're looking for. Let's change the word "things" to blessings for a minute and see how powerful the human mind can be.
We tend to notice the blessings we're looking for. On the other hand, the blessings we're not looking for are driving right past us by the thousands.
Each and every day God is blessing us in a million little ways. Some days we stop to count our blessings, but unfortunately other days we simply don't. Some days we wake up on the wrong side of the bed, and all we're focused on is what we don't have, what we can't get fast enough, what we've lost, and what we might not get tomorrow.
But on those days when we're looking for the good in this world, the goodness of God, and the good in others we begin to see that we're surrounded by His blessings each and every day.
The human mind is more powerful than anything we could ever imagine. God knows that–He created it. He also knows how to train our minds, and offers us the tools to do so.
One of the simplest ways to do this is to focus on the good things in our lives and tune out the bad.
Finally, brethren, whatsoever things are true, whatsoever things are honest, whatsoever things are just, whatsoever things are pure, whatsoever things are lovely, whatsoever things are of good report; if there be any virtue, and if there be any praise, think on these things. – Philippians 4:8
People like to say, "You are what you eat." We might also say, "You are what you think." Don't go getting all Oprah on me with this new age philosophy that we attain the things we focus on, or that the mind is a magnet for prosperity. That's not what I'm saying here. Simply put, those who focus on the Spirit walk in the Spirit, and those who focus on the flesh walk in the flesh.
Those who live according to the flesh have their minds set on what the flesh desires; but those who live in accordance with the Spirit have their minds set on what the Spirit desires.  The mind governed by the flesh is death, but the mind governed by the Spirit is life and peace. – Romans 8:5-6, NIV
Some days focus is tough. Sin rears its ugly head, and while you'd love to be joyful you can't stop thinking about that one thing that's dragging you down. So what can you do? You bring each and every one of those negative thoughts into captivity and demolish that stronghold. Remind yourself that while your circumstances may very well be out of your control, your thoughts are not. You have the ability to change your way of thinking when you start challenging those ideas that are wrong.
The weapons we fight with are not the weapons of the world. On the contrary, they have divine power to demolish strongholds. We demolish arguments and every pretension that sets itself up against the knowledge of God, and we take captive every thought to make it obedient to Christ. – 2 Corinthians 10:4-5
It's for this reason that after Paul and Silas were severely beaten with rods and cast into prison, they were able to sing and praise God while the other prisoners listened in. They didn't wait until they were nestled into a 5-star hotel before they began to praise God. They praised Him right then and there on the dirty floor of that jail cell, casting down any argument or pretension that might have robbed them of peace.
---
WORDS TO LIVE BY
Since, then, you have been raised with Christ, set your hearts on things above, where Christ is, seated at the right hand of God. Set your minds on things above, not on earthly things. For you died, and your life is now hidden with Christ in God. – Colossians 3:1-3, NIV
I beseech you therefore, brethren, by the mercies of God, that ye present your bodies a living sacrifice, holy, acceptable unto God, which is your reasonable service. And be not conformed to this world: but be ye transformed by the renewing of your mind, that ye may prove what is that good, and acceptable, and perfect, will of God.- Romans 12:1-2
Read Acts 16:16-40 for the full account of Paul and Silas' imprisonment.
---
RELATED RESOURCES
Philippians: The Joy of Christian Living Bible Study – While the book of Philippians is a small one, consisting of only four chapters, it's a book that's packed full of encouragement for today's Christian walk. Throughout the book, Paul refers to the joy that is available to all Christians, and while the main theme of the book leans toward joy, it's also about humility, peace, obedience, and contentment. This study opens up with a focus on Paul, his conversion, his mission, his visit to the Philippian church, and his sufferings. By gaining a better understanding of Paul and his relationship to the church, we have a deeper understanding of his letter to them. The emphasis on joy and Paul's example of contentment makes this Bible-study journal a must-have for anyone seeking encouragement and hope. Click here for more info: https://amzn.to/2Ou1Nfa (affil link)
---
ABOUT THE AUTHOR
Darlene Schacht and her husband Michael live in Manitoba Canada where the summers are beautiful and the winters are cold. Together they've come to learn that relationships aren't always easy, but that marriage, the way God intended it to be, is a treasure worth fighting for.
She began her publishing journey about twelve years ago when she pioneered one of the first online magazines for Christian women, known at the time as "Christian Women Online Magazine." After three years, Darlene left CWO to blog as a solo author at Time-Warp Wife Ministries.
It was also during this transition that she worked alongside actress Candace Cameron Bure to write the NYT Best-Selling book, Reshaping it All: Motivation for Spiritual and Physical Fitness. Reshaping it All was the winner of both the 2011 USA Best Book Awards and the 2012 Christian Reading Retailers Choice Awards.
Author of more than 15 books, Darlene continues to write and to minister to her readers through her blog at TimeWarpWife.com.
Connect with Darlene:
Facebook: @timewarpwife
Instagram: @biblestudiesforwomen
Pinterest: @timewarpwife
Twitter: @timewarpwife
---