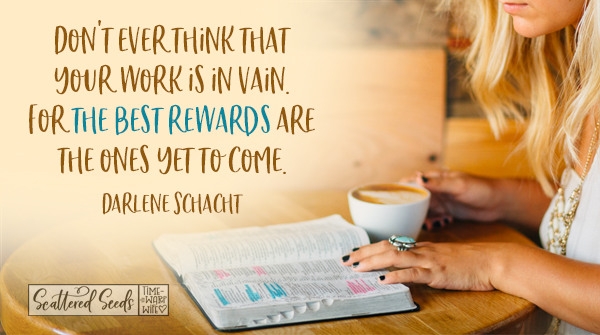 Have you ever done something kind for someone and wondered, "Where is the reward in all of this?"
Maybe they're ungrateful.
Maybe they're exhausting.
Maybe you have tried and tried and tried to make amends, but to no avail.
How many times do our gifts of love seemingly go unnoticed?
As I turned to Esther Chapter 2, I got to reading about Esther's cousin Mordecai and his interaction at the king's gate.
The Bible tells us that he overheard a plot to assassinate the king. After it was investigated and found to be true, the men were put to death, and nothing was said about Mordecai. But if you read to the very end of the chapter, you'll notice this line,
All this was recorded in the book of the annals in the presence of the king. (Esther 2:23, NIV)
Again I'm reminded of another scripture–this one's from Malachi Chapter 3. Many of the Israelites were frustrated, thinking it was vain to serve the Lord. What gain do we have when our work goes unnoticed and evildoers are blessed? They grumbled.
But here's the thing: the Lord was watching and listening and marking everything down in His book. As it says in that chapter, "a scroll of remembrance was written."
Don't ever think that your work is in vain, for the best rewards are the ones yet to come. The approval of man will never compare to the approval of God. For the good that we do for no other purpose than to glorify God. For the gifts that we offer the Lord. For the loving care we give another in the name of our King.
Just as we see that Mordecai was later honored by the king in Esther Chapter 6, the faithful will be honored by God when He opens the scroll.
"On the day when I act," says the Lord Almighty, "they will be my treasured possession. I will spare them, just as a father has compassion and spares his son who serves him. And you will again see the distinction between the righteous and the wicked, between those who serve God and those who do not." (Malachi 3:17-18, NIV)
---
Subscribe so you don't miss a post:

---
Tilling the Soil
Read Malachi Chapter 3.
Planting Hope
Then those who feared the Lord talked with each other, and the Lord listened and heard. A scroll of remembrance was written in his presence concerning those who feared the Lord and honored his name.. (Malachi 3:16, NIV)
---

Darlene Schacht and her husband Michael live in Manitoba Canada where the summers are beautiful and the winters are cold. Together they've come to learn that relationships aren't always easy, but that marriage, the way God intended it to be, is a treasure worth fighting for.
She began her publishing journey about twelve years ago when she pioneered one of the first online magazines for Christian women, known at the time as "Christian Women Online Magazine." After three years, Darlene left CWO to blog as a solo author at Time-Warp Wife Ministries.
It was also during this transition that she worked alongside actress Candace Cameron Bure to write the NYT Best-Selling book, Reshaping it All: Motivation for Spiritual and Physical Fitness. Reshaping it All was the winner of both the 2011 USA Best Book Awards and the 2012 Christian Reading Retailers Choice Awards.
Author of more than 15 books, Darlene continues to write and to minister to her readers through her blog at TimeWarpWife.com.
Connect with Darlene:
Facebook: @timewarpwife
Instagram: @timewarpwife
Pinterest: @timewarpwife
Twitter: @timewarpwife
You are loved by an almighty God,
Darlene Schacht
The Time-Warp Wife