Day 5 – Marriage and in-laws
My mother-in-law (shown above with my children)
is one of my best friends.
"Do not think that I have come to bring peace to the earth. I have not come to bring peace, but a sword. For I have come to set a man against his father, and a daughter against her mother, and a daughter-in-law against her mother-in-law. And a person's enemies will be those of his own household." ~ Matthew 10:34-36
Your in-laws. What do these three words mean to you? Do they make you feel blessed? happy? like you are missing out? not good enough? anxious? angry? sad? thankful? bitter? Whatever your unique situation is and whatever emotion is stirred when you think of them-they play a pretty important part of your husband's heritage. Whether they were the incredible parents, unavailable, or not ideal parents at all, your in-laws are the people who have had a hand in shaping your husband. Good or not so good. There will be some of you who, like myself, sincerely love their in-laws and there are others who pray they could just have a civil relationship with theirs. Oh, ladies of the latter–I empathize with my arms around you how hard that must be.
As we assess our personal relationships with our husband's family the best question to ask is : What does the bible say to us about marriage and our in-laws? In addition to Matthew 10:34 (above) here are some truths:
"They will be divided, father against son and son against father, mother against daughter and daughter against mother, mother-in-law against daughter-in-law and daughter-in-law against mother-in-law." ~Luke 12:53
"For a son dishonors his father, a daughter rises up against her mother, a daughter-in-law against her mother-in-law–a man's enemies are the members of his own household"~Micha 7:6
"From now on there will be five in one family divided against each other, three against two and two against three." ~Luke 12:52
If there is one thing that I notice in each one of these verses it is the Bible warning us of division amongst family members.
This can get very heavy for some reading this…perhaps even teary. But, alas there is good news….the. best. news. ever. Jesus, our savior, came to give us swords of righteousness which defend against this division. He came to tell us–that above anything else–we are to love Him and we are to love others (Luke 10:27). Some of you may be wondering how love can be used as a weapon… why, when we think of weapons we think of anything other than love!!! But, this is a weapon that Satan hates the most. He wants to see marriages broken and families in disunion, he wants you to fight with your mate, he wants you to be bitter, he wants you to feel the feelings you may be having this very moment.
Ladies, in all sincerity, your in-laws are a part of your husband. You may have hand picked this part, but it is very important for your marriage that you love them. How do you do this?
If you don't have the ability to love them that is okay, God

does

and he will always lend His love to you to give to them. Be willing to accept God's love and give it.
Whether or not your husband has a healthy relationship with his parents,

do not say unkind words about his family –

especially to him or your children. Hearing those words from you hit him deep within his soul. There could be scabs from wounds there in his heart that your words are picking at. Whatever you can do to make peace, to take up the sword of righteousness and fight back with love.
Do not expect Non-Christians to act as Christians – If your in-laws are not saved, pray to see them through the eyes of Jesus. He aches for them, wants better for them, and loves them.
Give them your God's best by loving them – knowing they may not love you back.
Make the first step– Welcome them to functions and in your home. You have no idea how much this means to your husband, even if it doesn't "work out".
Please let me be an encouragement to you today to be a wife who loves deep and fights as hard as she can with the sword of righteousness. If you have hard to deal with in-laws this will not be easy, but as Christ tells us in 2 Corinthians 10 :3-5 "For though we live in the world, we do not wage war as the world does. The weapons we fight with are not the weapons of the world. On the contrary, they have divine power to demolish strongholds. We demolish arguments and every pretension that sets itself up against the knowledge of God, and we take captive every thought to make it obedient to Christ."
Dear sisters in Christ, no relationship is perfect. Not every personality meshes well together. Different families have different ways about them. And even though I have a great relationship with my husband's family, there have been times where our differences have come about. However, above any differences we have ever had I have always chosen to forgive and love and they have given me the same grace. This love is for the betterment of our family and best of all, glorifies God.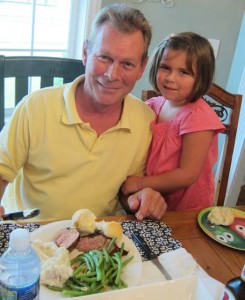 My father-in-law with our daughter.
I so enjoy having my in-laws over for dinner.
Disclaimer: Please know that this post is not addressing a relationship that could cause physical or mental abuse.
Love to you,
Janelle
Today's Challenge:
Invite your in-laws over for dinner this week. If they live far, call them or Skype with them with your children. Take one extra step than you typically do. You can do this. If you are close with your in-laws (as I am) this will be super easy. Don't know what to make? Come visit me over at Comfy in the Kitchen for some delicious recipes!
Today's Challenger:
Janelle is a Christian, a wife, a stay-at-home mom of 3 young children and a proud-to-claim-it "Foodie." She absolutely loves to cook and typically has an audience of 3 children, pulled up on chairs, taking turns pouring ingredients into bowls. Her spiritual gifts are a mix of "hospitality and evangelism" and is here in the center of God's will hoping to help you get a little more "comfy in your kitchen!" You can find her displaying step-by-step photos of her recipes, giving devotionals,and sharing meal ministry stories on her blog Comfy in the Kitchen.
If you would like to have Time-Warp Wife delivered to your inbox daily, simply click here: Subscribe to Time-Warp Wife