FREE Bible Activity Pages for Kids!

You might remember that a few months back, I introduced you to my daughter Madison and her new project, Busy Books: Sermon Notes for Kids.
For those of you who missed the post, or aren't aware of how Busy Books are designed, they work on a point system. Kids bring the books to church with them, and earn points by listening to, and checking off key words during the sermon. This teaches them to pay attention, and listen closely. They also earn extra points if they read their Bible during the week, if they bring their Bible to church, if they pray in the morning, etc. Kids LOVE these books so much that we also created one for teen girls called Busy Books: Sermon Notes for Young Ladies.
Click the image to visit Amazon, where you
can take a peek inside!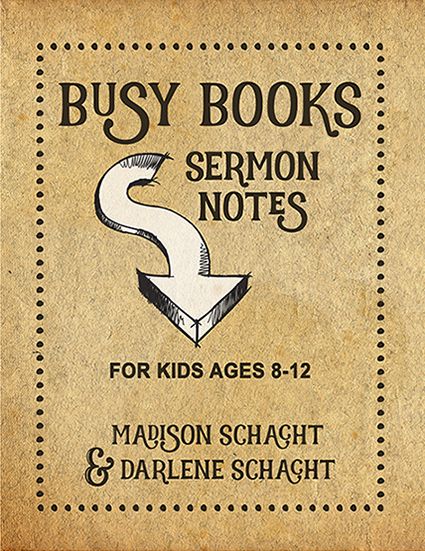 Amazon affiliate link
[otw_shortcode_button href="http://www.amazon.com/gp/product/0978026284/ref=as_li_tl?ie=UTF8&camp=1789&creative=390957&creativeASIN=0978026284&linkCode=as2&tag=timewarpwifem-20&linkId=T7WJ5OGTUPIJSIOV" size="medium" icon_position="left" shape="radius" color_class="otw-red"]BUY NOW[/otw_shortcode_button]
FREE ACTIVITY PAGES FOR KIDS
More recently Madison got busy creating FREE activity pages for kids, that are not only fun–they're also insightful.  These are some of the best activity pages I've seen. In fact I love them so much that I've asked her to make a lot more of them for us, and she said she will!! 🙂
Here's an example of two of them. Click here to visit her site where you can view and download the others. And make sure to bookmark the page because we'll be adding more of them soon.
You are loved by an almighty God,
Darlene Schacht
The Time-Warp Wife