Why Marriage and Diamonds are So Much Alike
I got to thinking this week about diamonds. Multi-faceted ones to be exact, and how they remind me of marriage.
If you ever hold one up to the light you'll notice that some parts gleam while others are shadowed.
In the same way some parts of our marriage shine brighter than others.
I remember back to the days we were dating, when romance took center stage. Hearts were a flutter as little by little we got to know each other. There was mystery, uncertainty, deep adoration, and absolute joy. Little did we realize that romance was merely one blessing of many we'd be sharing together.
And then we got married. Soon after that we bought our first home, then we had children, started a company, joined a new church… and the blessings went on… Each time one blessing stepped up to the spotlight, others were shadowed.
It's easy to elevate one aspect of our marriage. It's tempting to idolize the best parts and to turn our back on those parts that are stressful, uncertain, and taxing. But here's the thing—God wants us to rejoice through our trials. He sees the big picture. God knows that the trying of our faith works patience, and he sees the beauty in a life abandoned to Him.
My brethren, count it all joy when ye fall into divers temptations; Knowing this, that the trying of your faith worketh patience. – James 1:2-3
And it's not always trials. Sometimes we just fail to notice the blessings we have because we're so focused on the ones that we don't.
Romance, money, employment, friendship, children, and a beautiful home are just some of the blessings of marriage. They're wonderful in and of themselves, but if we start to worship those things or put them at the center of our marriage, we lose sight of the fullness and beauty of our marriage covenant. More importantly, we lose sight of God.
Think about that multi-faceted diamond for a minute. Remember how I pointed out the fact that when one part shines the others are shadowed? Well, there's an exception to that.
When a diamond is completed surrounded by light every part of it shines.
Think about that for a minute and compare it to marriage. When our marriage is completely surrounded by light—in other words when we've given every part of it over to God–we discover beauty on every side.
That's what He wants us to do.
God doesn't want us to look back. He doesn't want us to focus on the romance we had, the kids that grew up, the job that we lost, or the home that we still can't afford.
Does He want us to hope? Does He want us to pray? Absolutely. But in it all, and through it all, He wants us to focus on Him.
Wherefore seeing we also are compassed about with so great a cloud of witnesses, let us lay aside every weight, and the sin which doth so easily beset us, and let us run with patience the race that is set before us, looking unto Jesus the author and finisher of our faith; who for the joy that was set before him endured the cross, despising the shame, and is set down at the right hand of the throne of God. – Hebrews 12:1-2
You are loved by an almighty God,
Darlene Schacht
The Time-Warp Wife
Let's get connected: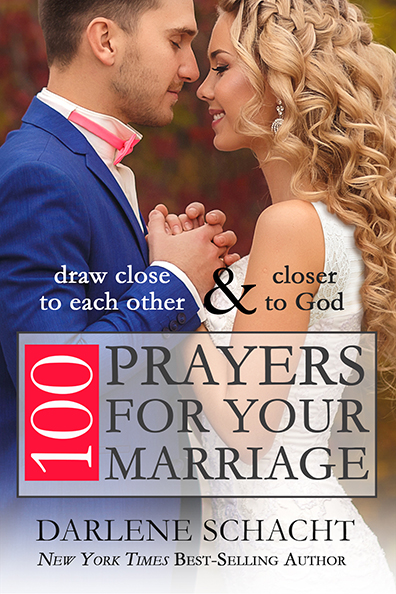 Available now on Amazon!