Before I get into today's study, I wanted to let you know that Amazon is having a huge sale on my Quieting Your Heart: 6-Month Bible Study Journal. They marked it way down this past weekend. Unfortunately I'm not sure when they will raise the price again, because this is not a publisher discount–it's Amazon who is offering the sale.
It was still on sale when I posted this, but that could change anytime.
Just so you know… this book is a journal–not a Bible study. It's a cute journal that you can use to take notes alongside any study you are doing. It has a place to jot down what you are learning as well as things you are thankful for each day. There are also little birds in the book that you can color to keep things pretty.
This journal was an Amazon #1 best seller this past spring. I get a lot of awesome feedback about it, which is why I wanted to let you know it's on sale. Here's a peek inside:
(affil link)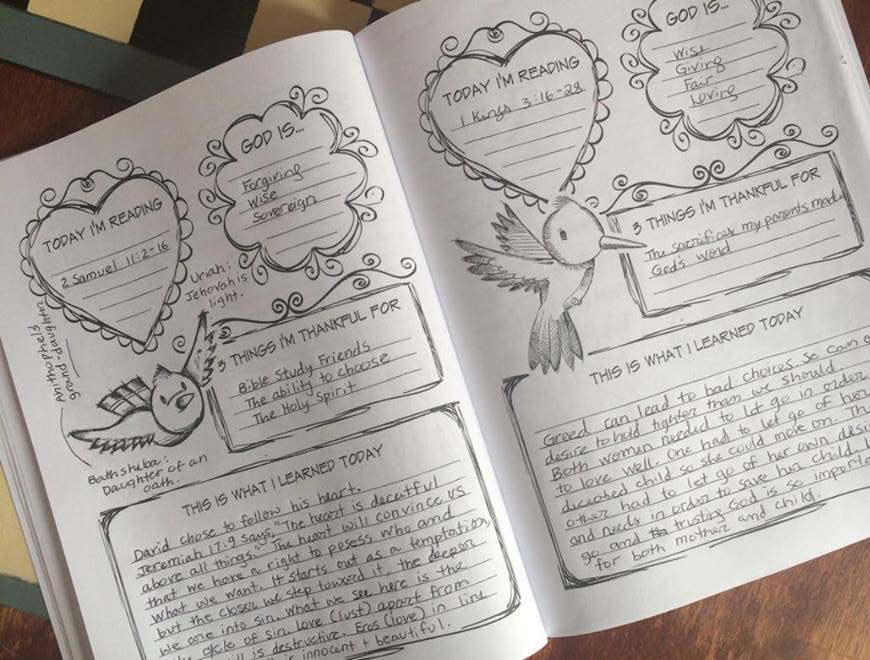 ---
We're onto week 3 in our study of Philippians. You'll find all of the resources you'll need for this week below, including study questions, a coloring page, scripture cards, and a FREE study guide.
*Important* Please note: There is a typo on Days 16-18. It should be divided as follows: Philippians 2:1-14 (days 15 & 16) and Philippians 2:15-30 (days 16 & 17). I'm terribly sorry and apologize for that oversight.
Want to join our discussions? Visit my facebook page on Monday, Wednesday and Friday afternoons, where I'll post my thoughts and open up a discussion so you can post yours.
You are loved by an almighty God,
Darlene Schacht
The Time-Warp Wife

FAQ: How do I participate in this study? 
It's simple. If you haven't done so already, download a copy of the FREE Bible study guide. You'll find the download further down this page.
On Mondays I'll have new printables for you (see links below) including scripture cards, questions, week-at-a-glance, and a coloring page. Friday is a recap of the week, and my thoughts on the study.
During the week, you'll study at home, following the outline of the study guide. You can study alone or with a group of friends–well suited for either.

In addition to my posts here, you can find me on Facebook. On Monday, Wednesday, and Friday afternoons, I'll post my journal entries and share my thoughts. I'll also open up the discussion for you to share your thoughts.
Here is a link to my facebook page:
http://www.facebook.com/timewarpwife
Note: You'll also see a copy of my Bible Study/journal below (available at Amazon – affil link). This is an optional addition to the study. Unlike my previous journals, it contains everything in the study guide as well as the entire book of Philippians (KJV), coloring pages, thought-provoking questions, and my thoughts on the study. Not to worry however, if you're using the free study guide (link below), you'll still have access to all of this in the form of free printables, and Friday's recap here on the blog.
P.S. See the colouring page below? Come back here on Friday to continue our study on "Philippians." I'll have another colouring page for you then!

ONLINE RESOURCES: 
These are my favourite online Bible study tools!
Bible Gateway – Every version you can imagine is online
Matthew Henry's Commentary on the Whole Bible
Looking for an easier commentary? Here's the Concise Version
Other commentaries you might prefer
Interlinear Bible – I love this one!
Blue Letter Bible – Dig into the Hebrew and Greek
Bible Word Search
---
 THIS WEEK'S RESOURCES
WEEK AT A GLANCE
Click here to download this week at a glance.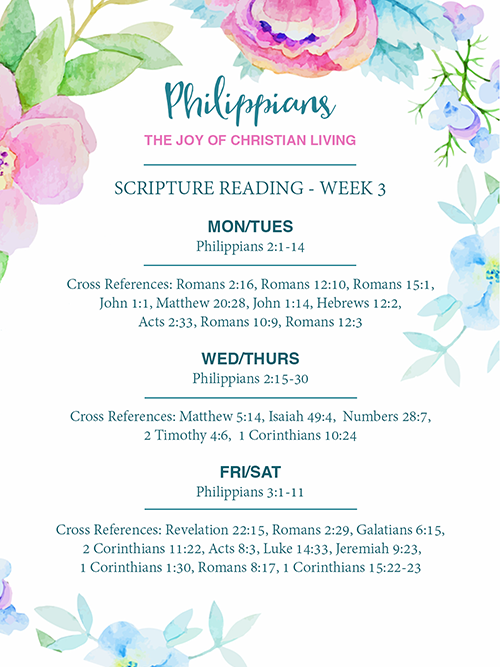 ________________________________________________
STUDY QUESTIONS
Click here to download this week's study questions.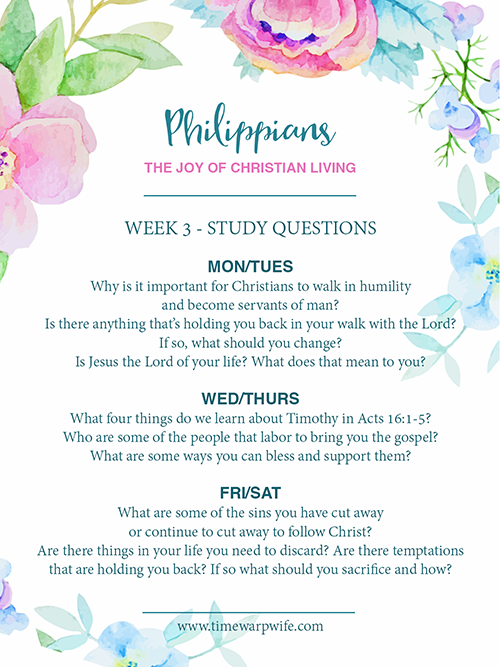 ____________________________

SCRIPTURE CARDS – 7 per week – 30 in total
Click here to view and print this weeks cards:
Week 3 – Page 1  |  Week 3 – Page 2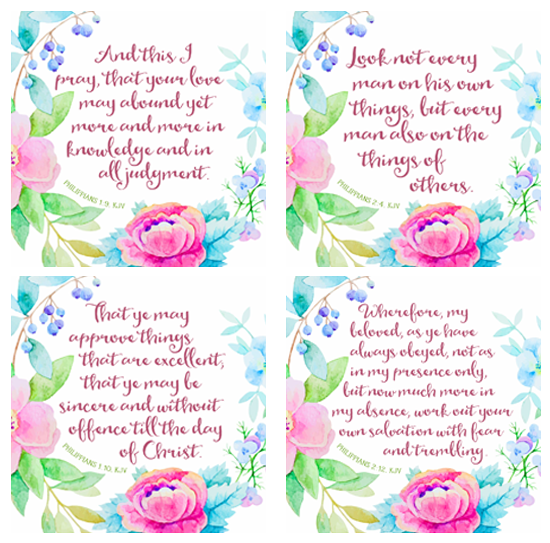 _______________________________________________
COLORING PAGE
Click here to print this colouring page. Come back on Friday for another one!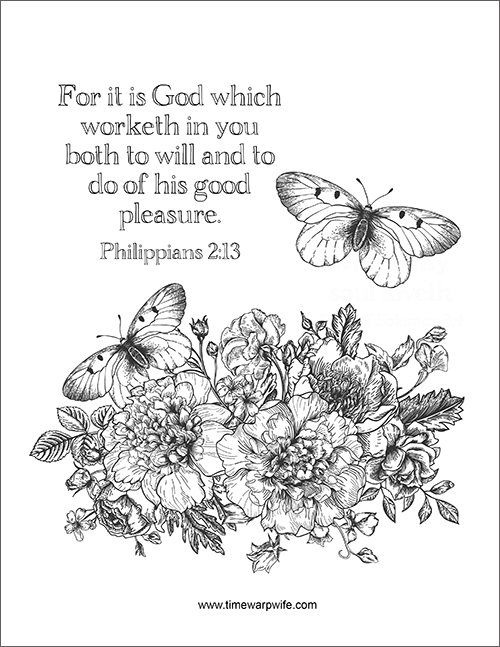 _______________________________________________
FREE BIBLE STUDY GUIDE
click the image to view and download, or click here