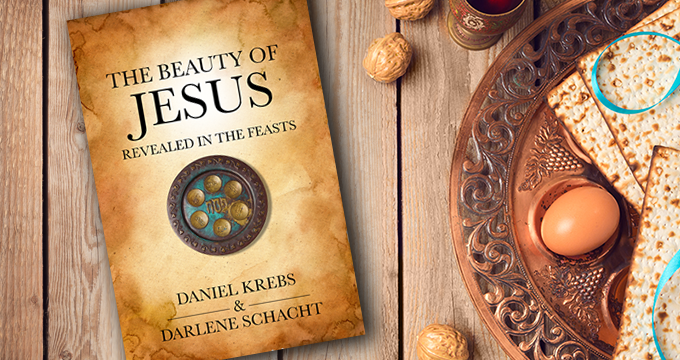 Table of Contents
Week 2 Video – The Feast of Unleavened Bread
Week 3 Video – The Feast of First Fruits
Week 4 Video – The Feast of Weeks
Week 5 Video – The Feast of Trumpets
Week 6 Video – The Day of Atonement
Week 6 Recap
Week 7 Video – The Feast of Tabernacles
Week 6 Recap
Note, this post contains affiliate links.
After how many months… Two? Three? We've finally finished the book! All I can say is WOW. Just kidding, I can say more. 😉 In fact, I have to say more… this study has been life-changing for me. We (Pastor Dan and I) spent night after night pouring into the Word, looking at dates, studying excerpts from the Talmud, meeting to discuss and pray about each chapter, consulting with a Messianic Rabbi, and the list goes on… I spent summer nights walking and listening to rabbis teach me about Jewish history and tradition. I spent my days writing and rewriting, and then writing again.
To say that this has been an amazing experience would be an understatement. This has gone far and beyond anything I've studied before. And, in fact, I can't stress enough how excited I am to share the next step of this journey with you.

If you are looking for the book, you can find it at Amazon. Click here for the book, and here for the study guide.

About the Book
To understand the holy days is to appreciate and recognize the heart of God. In The Beauty of Jesus Revealed in the Feasts, we take an in-depth look at the holy feasts set forth by the Lord Himself. You might be learning all of this for the first time, or you may already know how the life of Jesus and future world events are clearly expressed in the feasts. In any case, there are new things to learn each time we open God's Word.
Here's a brief overview of the 7 feasts that we'll be discussing:
Passover – Jesus' sacrifice on the cross
Feast of Unleavened bread – Jesus' death and burial
Feast of First Fruits – Jesus' resurrection
Feast of Weeks – The birth of the church
The Feast of Trumpets – The rapture of the church
The Day of Atonement – The tribulation period
The Feast of Tabernacles – The physical return and reign of Jesus on the earth
When we dive deeper into studying these holy days, we discover some incredible truths that have been ingrained in the traditions of these special ceremonies that clearly point to the beauty of the Messiah.
FYI, there's nothing girly about this book. 😉 Pastor Dan and I ensured that it would be a great study for both men and women alike. So if you have a husband you want to study with or a small group from church–that's perfect! I got to thinking that it would also be a great study for homeschooling at the high school level. And of course, it's perfect for personal study as well. We dig deep into scripture, but it's easy to follow. 🙂
7-Week Study
Here's the thing… our 7-week study is going to bring us right into the Christmas season. I wasn't sure what to do about that. Would I wait until the new year, after you've waited so long already? Or, should we dig in before Christmas, take a break, and resume the study in January? After much thought and prayer, I've decided that God gave me this completion date for a reason, so I'm going to trust Him and start our study in just a couple of weeks.
So, we'll begin on November 20th.
Passover – November 20th
Unleavened Bread – November 27th
First Fruits – December 4th
Feast of Weeks – December 11th
Feast of Trumpets – December 18th
Day of Atonement – January 2nd
Feast of Tabernacles – January 8th
On Monday of each week, I'll post a couple of printables. I'm still mulling the idea around of exactly what these printables will look like, so I'm going to have to surprise you.
On Wednesdays, I'll post a video for you as Pastor Dan and I sit down to discuss each chapter. We have a separate video for each feast, which is about 45-minutes long.
On Friday afternoons, I'll post my answers to the questions from the study guide. I'd like to also invite you to join me at that time for a discussion on Facebook.

The Parallels Between The Biblical Feasts and The Fulfillment of Them in Christ Jesus is Absolutely Fascinating
By Rebecca Knox on October 25, 2017  ⭐⭐⭐⭐⭐
"I had an opportunity to review this book before it came out and found the parallels between the Biblical feasts and the fulfillment of them in Christ Jesus absolutely fascinating! I appreciate the fact, too, that Pastor Krebs and Mrs. Schact addressed subject matter from a Biblical point of view rather than what's often popular with the modern church of our day. This book is refreshing and will take you back to the foundations of our faith in a clear and concise way."


You are loved by an almighty God,
Darlene Schacht
The Time-Warp Wife