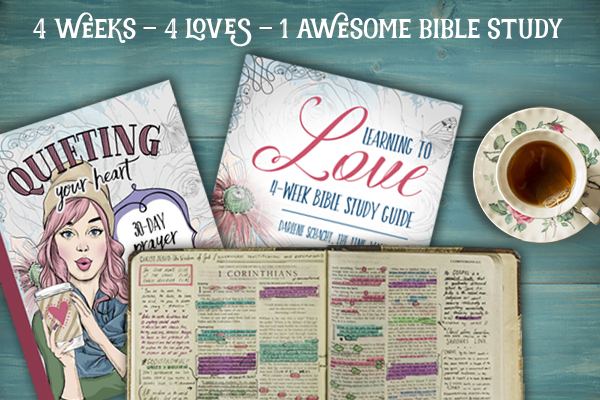 Note: If all of the information on this page is too much to process. Go straight to the free study guide below where you'll find everything you need in the introduction.
** This study is over, however you can still access all of the resources below as well as the weekly resources available through the table of contents. So you don't miss a thing! **
_______________________________________________
Table of Contents:
_______________________________________________
Before I get into this, I have to say that this is MY FAVOURITE Bible study to date! I absolutely love it and I think you will too! If you have a group of friends that might be interested in this study, maybe you can call them up and get together once or twice/week. The study guide is free and I'll provide more printable resources each week! It's also a great study to do with your husband. The interior of the study guide isn't too girly, and the content is awesome!
_______________________________________________
THE STUDY – February 1-27th
"Learning to Love" will run for four consecutive weeks (February 1 – 27). I'll be posting here on the blog, Mondays and Fridays. Each week we'll study a different kind of love:
Storge – natural affection, most often between family members such as the affection between parents and children
Philia – brotherly love, friendship
Eros – a romantic, passionate love
Agape – God's love toward man and our reflection of this love
As we go through this study, we'll examine each love individually. We'll look at stories in the Bible to see where love was evident in a person's life, and where it may have been misused.
_______________________________________________
RESOURCES
THE STUDY GUIDE – FREE Printable Below
In the guide (find link below), you'll find that I have selected scripture to read on Monday, Wednesday, and Fridays.
On the alternate days we'll be digging deeper into the Word.
You'll find a section at the front of the book called "How to Use This Study," it will guide you through the dig, with steps to help you along.
PRAYER JOURNAL – Optional – Available at Amazon.com  (affiliate link)
You don't need to pick up a copy of my prayer journal to do this study with us. It's an optional addition to this study. You can use any journal you have. In fact you could use a simple piece of paper. What I encourage you to do is to use your journal to journalize daily prayers, and to give thanks for a few things each day. It's a nice keepsake to hang on to.
If you are ordering the prayer journal, don't wait too long as it takes about a week for shipping. AND it's on sale right now for only $8.09!
THE BLOG
I'll be posting on the topics each week on Mondays and Fridays. Come here to glean encouragement and share in my thoughts.
You'll also receive these free printables each Monday: 
Week at a Glance
Weekly Questions
Bible Verse Cards
FIND ME ON THE WEB
Find us in our Facebook group: Bible Journaling. I'm sure that many of the readers including myself will be sharing their journal entries.
ONLINE RESOURCES: 
These are my favourite online Bible study tools!
Bible Gateway – Every version you can imagine is online
Matthew Henry's Commentary on the Whole Bible
Other commentaries you might prefer
Interlinear Bible – I love this one!
Blue Letter Bible – Dig into the Hebrew and Greek
Bible Word Search
Some of you have asked about the KJV Journaling Bible. Here's a link to it:
KJV Journaling Bible from Amazon
_______________________________________________
CALENDAR
Here is my blogging schedule for the study:
The grey squares are the days I'll post on the topic each week.
If you're following along in the Quieting Your Heart Prayer Journal (Love Edition),
simply follow the numbers on this schedule below.
Praying  through the weekends, you'll start on February 1st and end on March 2nd.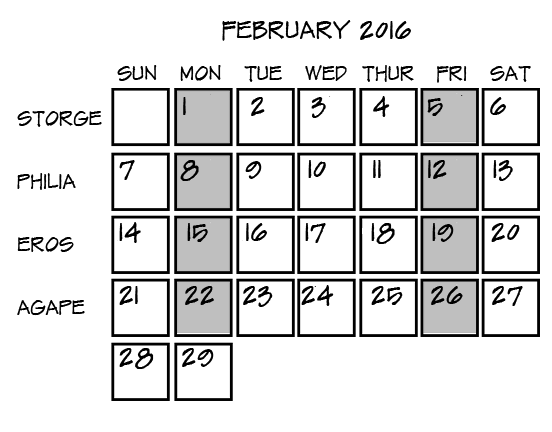 _______________________________________________
FREE BIBLE STUDY GUIDE
click the image to view and download, or click here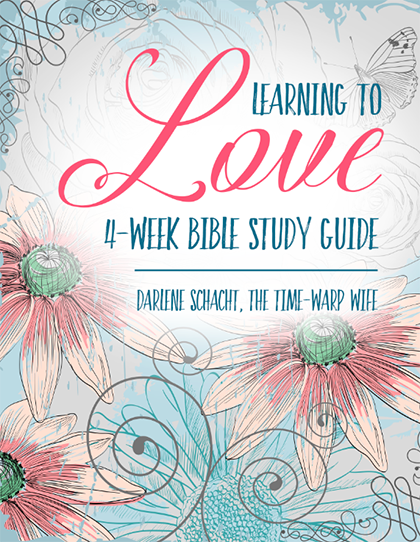 PRAYER JOURNAL
(an OPTIONAL addition to the study)