This 3-week Bible study on Esther starts March 20th and ends on April 7th.
Get a link to the FREE Study Guide below, as well as our reading schedule.

TABLE OF CONTENTS
Week 1 – Part 1
Week 1 – Part 2
Week 2 – Part 1
Week 2 – Part 2
Week 3 – Part 1
Week 3 – Part 2

What you'll find in the study guide are questions for each chapter. The questions are designed to get you thinking and to keep you focused. Some may be easy and other questions may prompt you to do a little digging, and cross referencing. All of my answers will be posted on my blog each Friday during the month of the study. I'll also be posting Monday, Wednesday, and Friday afternoons on facebook: http://www.facebook.com/timewarpwife

INTRODUCTION
The book of Esther is a beautiful story of one woman who courageously gave of herself for the will of God and His people. The events in the story of Esther reveal the plot of an evil man who desired to have God's people destroyed, and the courage of one woman who stepped out in faith to turn that plan around. We can glean inspiration from her strength, her wisdom, and her dignity as we face our fears and boldly stand before the throne of God
Esther gives us something to celebrate as it chronicles the deliverance of the Jews. The King at the center of this story is Xerxes (Ahasuerus), son of King Darius, and grandson of King Cyrus. During his reign, King Cyrus made a decree that allowed the Jews in exile to return to Jerusalem to rebuild the temple. While many Jews returned, many remained in the Persian Empire, two of which were Mordecai and his cousin Esther. Their story inspires believers to trust God's wisdom and timing, and to stand strong in the face of persecution.
Throughout the book we see the providence of God as He orchestrates every detail of the story. We see how every aspect is perfectly timed, and how the King's heart is in the hand of the Lord, as the scripture says:
"The king's heart is in the hand of the LORD, as the rivers of water: he turneth it whithersoever he will." – Proverbs 21:1
The Book of Esther is the basis for the Jewish celebration of Purim—a feast that is still celebrated today. This festival commemorates the salvation of the Jews from the evil plot of Haman who sought to destroy them. Its full text, otherwise known as Megillah, or the "Scroll of Esther," is read aloud twice during the celebration, in the evening and again the following morning.
Let God shape your character by learning new things. Stretch your mind and open your heart to His Word.
You are loved by an almighty God,
Darlene Schacht
The Time-Warp Wife

When Do We Start?
The study starts March 20th runs for 3 weeks. There are 10 chapters in the book of Esther, but chapters 9 & 10 are combined.
Subscribe to my blog so you don't miss a post. The study is absolutely FREE.

How do I participate in this study? 
It's simple. If you haven't done so already, download a copy of the FREE Bible study guide–you'll find the download further down this page.
On Mondays I'll have new printables for you such as printable worksheets and a coloring page. Friday is a recap of the week, and my thoughts on the study.
During the week, you'll study at home, following the outline of the study guide. You can study alone or with a group of friends–well suited for either.
In addition to my posts here, you can find me on Facebook. On Monday, Wednesday, and Friday afternoons, I'll post my journal entries and share my thoughts on the book of Esther. I'll also open up the discussion for you to share your thoughts.
Here is a link to my facebook page:
http://www.facebook.com/timewarpwife

ONLINE RESOURCES: 
These are my favourite online Bible study tools!
Bible Gateway – Every version you can imagine is online
Matthew Henry's Commentary on the Whole Bible
Looking for an easier commentary? Here's the Concise Version
Other commentaries you might prefer
Interlinear Bible – I love this one!
Blue Letter Bible – Dig into the Hebrew and Greek
Bible Word Search

FREE BIBLE STUDY GUIDE
click the image to view and download, or click here
You do not need anything else for this study other than a Bible and a pen!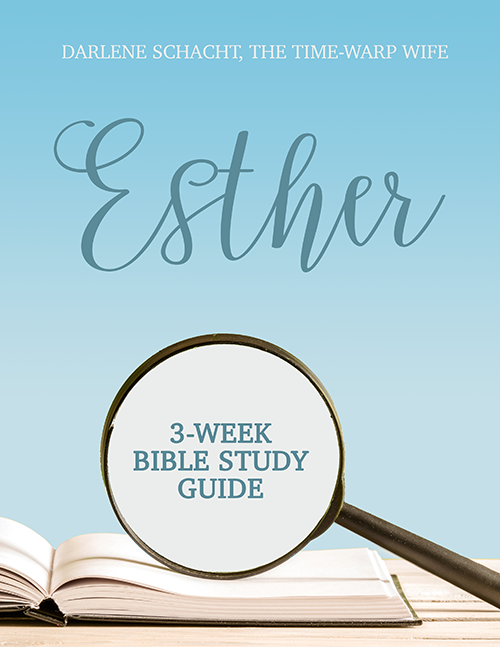 Additional Option… 
In addition to the study guide, I've created a journal (available now at Amazon) for the study, that's unlike any other journal out there. This one is a Bible-study/journal combination that's jam packed with information. In it you'll find everything you need to complete the study. I provide insight, encouragement, thought-provoking questions, cross references, and more…
FAQ: What's the difference between the journal and the FREE study guide? 
The journal is not only beautifully designed, it also has everything in one place so that you don't have to download and print the questions, the weekly coloring pages, and worksheets. It also has a little background information here and there such as interesting tidbits from history. It's designed to be a keepsake in which you can journal, and then tuck away for future reference.
It's ideal for group study, because members can take their booklets home, answer the questions, color in the pages if they like, and bring them back each week to share their thoughts.
The journal is available now on Amazon. I've also provided some sample pages below so you can take a peek inside. (This post contains affiliate links)
(Please note: The journal is an optional addition. You do not require it to take part in this study, and will definitely enjoy the free resources I provide)

 Esther: In-Depth Bible Study Journal – Now Available
WHY READERS ARE BUYING IT:
"Not only is this a companion study to the Bible but it's a beautiful coloring book too. Lots of little tidbits about the book of Esther and the customs of the time are sprinkled throughout the book. The journal asks many questions to get you thinking and leaves plenty of room to write out your answers." – Donna M. Trull (Amazon Review)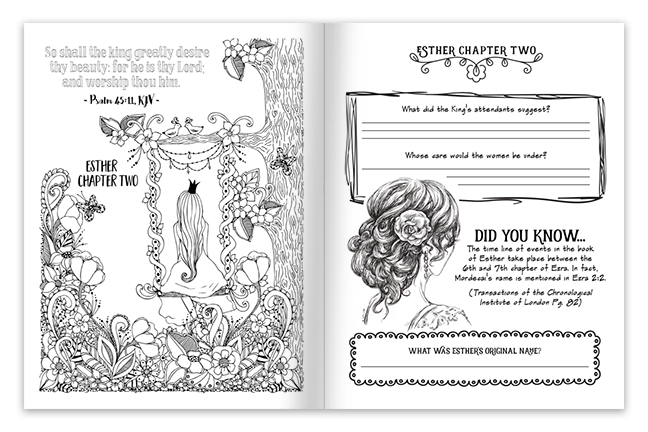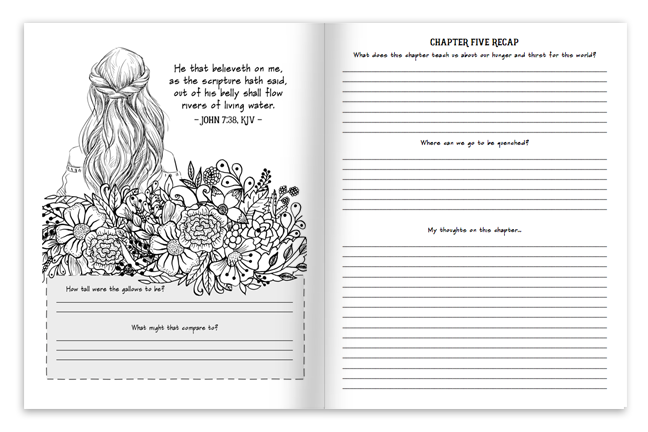 Come back on March 20th when we'll begin this study together!